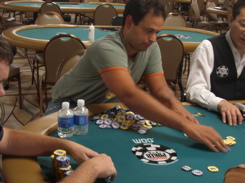 Although the $50k H.O.R.S.E was brimming with talent and established names, it was the less lucrative $5k 6-Handed Event that provided more entertainment, Finish pro Thomas 'The Eggman' Wahlroos being the star of the show.
Down to the latters stages, Roland de Wolfe had his sights set on a WSOP win to accompany his EPT and WPT titles on the mantelpiece, whilst Phil Hellmuth was desperately seeking that 12th bracelet that would put him two clear of the competition. The Eggman, however, had other ideas, and instead of offering his moral support, decided to storm the playing area and not only knock over Roland's stack, but also the Poker Brat's.
Intoxication as his defence, The Eggman was in and out in a flash, his only mark being a spay of chips across two tables and an exasperated Hellmuth racing over to The Wolfe to see what the hell was going on: "Hey, Roland, what's up with your boy? Something needs to be done about him."
With the bloggers giggling under their breath, Hellmuth then chased the TD and demanded action be taken. "It's not acceptable," he moaned. "He can't just come in here and do that! I was in the middle of a hand! He needs to be given a penalty."
When the TD reminded Phil that Wahlroos wasn't in the tournament, Phil suggested he receive a penalty in the tournament he is in. I'm not sure who then informed Hellmuth that he wasn't playing fullstop, but a penalty without playing would certainly have been a first!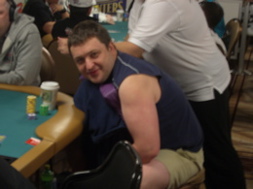 If you fancy a laugh, click here to see Wahlroos's post-demolition interview. He may not be everyone's favourite, but he's definitely a character. He's got a stalker too don't you know!
Talking of characters, Tony G was in top form. Surprisingly meek throughout the early stages of the tournament, Mr Guoga became more and more, well… unpopular as the day progressed, and when those big all-ins arrived with a few tables left, that's when he came out of his shell to perform in that painstakingly obnoxious manner that we all know and love/hate.
All-in with A-9 vs. J-T on a K-Q-Q Flop, the Turn brought and Ace, but the River a Queen. Cue the Tony G Show… "Yeah, baby!" he exclaimed. "Now we're playing! You wanna gamble with J-T? Woooooohoooooo, yeah baby! All your chips will end up here, I promise you."
Isn't he a treasure? From the 'streets' according to the 2+2 thread, although I've never been sure what that meant. Tony Blair lives on Downing Street, is he from the streets? If ever there was someone that I would imagine wasn't from the streets, it would be Tony G, closely followed by Phil Hellmuth, who I imagine grew up amid gang warfare in the back streets of LA. Aiii!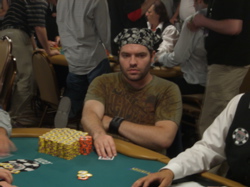 Several hands later, I recall Dutch Boyd re-re-rasing the Lithuanian off a hand and mimicking his opponent with a gentle "wooooohoooooo", but Antonius soon returned the favour by doubling through Dutch with Fours v A-Q, and, of course, celebrating. "You're the luckiest and loudest player here," accuses Dutch. "Better than being the unluckiest and loudest," sniggers Tony G. At one point, Dutch Boyd made the point that Tony had doubled up with 7-3 not too long ago, which elicited vocal agreement from Greg Pohler in Seat 1. "Ahahahah," shouts Tony G, "I see you have a friend. You two can hold hands underneath the table." This is why I love the World Series!
Back to Dutch for a moment, who the heck are you and what have you done with the real Boyd?! Crikey, I'm not sizist or anything, but he ain't half been piling on the pounds (or stones). He hasn't been well over recent years (just check out youtube for proof), but at least he's eating well! Very well indeed. My mother always says, "Eat plenty of food." Pass the Dutchie on the left hand side? Lol, not anymore.
Still, I like the new Boyd, he seems laid back, cool and, although creepily distant, as if he's enjoying his poker. Don't listen to what people say either – this kid's got game! He plays lots of pots, in position, and rarely makes a mistake. One of those players who always seem to know where they stand. Shame he didn't win. Him and the G-ster heads-up, now that would have been a hoot.
You might find this hard to believe, but Tony G and Dutch Boyd are two of my favourite players!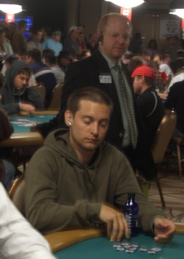 Finally, before I waffle into oblivion, I couldn't help but be sidetracked by the presence of Tobey Maguire. I'm not star-struck or anything, it's just that I'm curious about how people act in certain surroundings, so I couldn't help but watch him like a hawk. He's a mega film star but just sort of fits in quietly here, perhaps because he's such a reserved, dressed down kinda chap. Seems to lack the 'shine', glamour or gloss that you might expect from someone as famous as him. You can tell people are looking at him, perhaps out of the corner of their eye whilst they whisper to a neighbour, "Look, it's Spiderman."
One observation that intrigued me was his avoidance of the cameras. For someone so famous and not too far off a featured final table, it seemed odd that he'd wave his hands in front of his face whenever the ol' Casio came within a mile of him. I remember at one point taking a photo of the lesser known Mark Bartlog and ignoring Spiderman seated next door, that was weird. Would I do the same to Tom Cruise?
Incidentally, this photo may seem off-the-cuff, but it is a tad staged, the tournament supervisor (or whatever he is) asking me to take a piccy of his brother's (or, most probably, his) hero. Of course, I foolishly obliged and felt like a tit in the process. At least Tobey didn't look behind him and notice. If he had, he may have whipped that camera out of my hands with a whoosh of spideman like webness.
Imagine what he would have done if Jen had undertaken my dare to say, "I loved you in Donnie Darko." Black Spiderman would have made an appearance for sure!