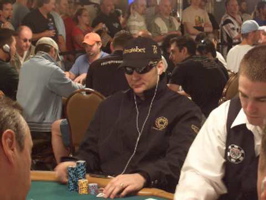 The third Event we covered this year was the $10,000 Pot Limit Omaha Freezeout that was infested with British and European potential and touted as being our best chance of a bracelet. However, come money time, it was the Americans who triumphed, Paul Jackson being the only one to cash for England. With this in mind, isn't it about time we scrapped our "Omaha is where we excel" theory – let's be frank, when it comes to poker, all forms of poker, the Americans dominate, and the more we push Omaha as "our game", the more embarrassing our lack of progress becomes.
As always, the entertainment award went to Hellmuth, the mere "I am the King of Poker!" expression on his face being enough to maintain my amusement. I do recall one moment of signature petulance, and The Anti-Hellmuth Association are going to love this one, the Poker Brat going barmy after being outdrawn by his table neighbour with even the massage cushion taking a pounding as Phil hurled it at his chair in disgust.
"F***ing hell," he exclaimed. "Unf***ing believable." A quick glance at the board and we see K-Q-A-2-9. There are no hands available as they've already been mucked, but Hellmuth was there to fill the world in on his misfortune...
"What a sucker. Call my raise with Ace Jack Five f***ing Three. Amateur." But how did he lose, I hear you cry? Well, once again, Phil provided me with free commentary... "(To dealer) You found diamond diamond for him. Thank you, dealer! When do we change the dealer?" This put Hellmuth down to 12, which, coincidentally, is also his mental age.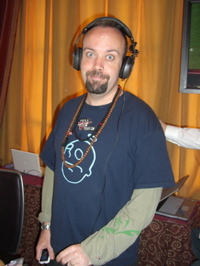 Talking of confrontations, Andy Black's exit wasn't a pretty one. His aggression in his final hand forcing German based player Davood Mehrmand, who is honestly as mad as a box of monkeys, to fold and subsequently spared the demolition of his stack. After Black lost the hand, Davood thoughtlessly shouted 'thank you' a few times and was generally lacking the tact that one ought to possess at such a time.
Not being the reserved type, Black snapped and shared a few firm words with his former tablemate. There was a bit of a kafuffle, but nothing serious, although it genuinely could have been. From what I understand, Davood isn't one to back down from a fight and would happily throw a fist or two if provoked enough. Oh, tantrums and scuffles, great stuff – and I didn't have to pay 10 grand to watch!
Soon enough it was Main Event time, and if you thought that it would be any quieter then you'd have another thing coming. Actually, one of the quietest players of them all was ironically the guy to kick up the biggest storm thus far. With all his chips in on a draw, David Singer's opponent leant into his pocket to pull out a ringing phone and turn it off, only for the Full Tilt pro to dip into the rule book and claim his hand to be dead. The TD said that he didn't 'use' his phone and subsequently allowed play to continue.
Of course, Mateyboy called (especially after David had caused such a fuss), of course, David failed to hit his draw and, of course, he threw a wobbly on the way out, even demanding a refund or to be allocated a seat in Day 1D. A refund's one thing, but another seat, now that's just absurd. Imagine if he won! That other guy would be sitting in the crowd saying, "Hey, I knocked him out on Day 1!"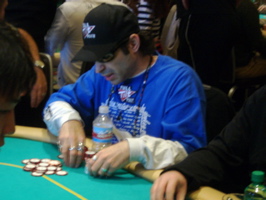 We could go on all day about the mobile phone rules and the various interpretations, but it's all a matter of opinion and the only one that counts is that of WSOP. For me, I don't care if it's based on your translation of the phrase 'on the phone' or 'using', it's about common sense and having the decency to take your elimination like a man. Of course, lack of consistency is a pain in the arse, but if someone pulled out their phone against me and it was obvious to all and sundry that he wasn't using it for any benefit to his game, then I wouldn't say diddly squat, whether the rules say his hand should be dead or not. In my opinion, this is a game of integrity, and I just don't want to win by angle-shooting or nit-picking at the rules and would suggest that Singer do the same. I guess that's what you expect when you play a lawyer though.

Off the table, there have been problems of another kind as I learned of Phil Peters' horror story. Phil, a well-know gambler from the Midlands, was enjoying his stay in Vegas… until recently. According to my source, Paul Parker, Phil was playing blackjack when he was accused (in not so many words) of card-counting and asked to leave the casino. It was also requested that he sign a form saying that he wouldn't enter any Harrah's establishment or play their games but, with Phil set to partake in the upcoming World Series Main Event, he inevitably refused.
At this point, Bally's said that he was trespassing and had to leave immediately or the authorities would be contacted. Okay, fair enough, you might think, that is their right, but what if Phil was staying in that Hotel with his wife, Nieve Peters, sleeping in their bedroom upstairs? Well, this didn't seem to matter to Bally's, as the authorities were indeed called in to handcuff Phil and take him away to the police station where he spent a miserable 20 hours in jail.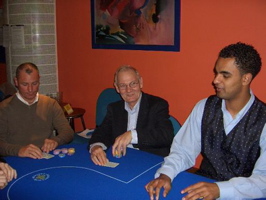 And it gets worse. Rumour has it that he was considered to be a liar and his passport thus not given the credit it should have been. As a result, Phil was known as John Doe, which meant that Nieve was unable to locate him when she arrived at the station! I'm not sure of the final outcome, but Phil did make it to the Main Event to play Day 1C, although with little success, and I can guess he's probably still not staying in Bally's – not sure he'll be back either.
It's a crazy world, as proven by my recent outing at the cash tables. I don't normally tell bad beats, as they're pretty boring, but I'm going to make an exception today for the purpose of mild amusement. 10-handed $1/2 table and after calling a raise pre-flop with Kd-2h-2d-5h, I proceeded to check raise all-in Mateyboy's $50 bet on a Kh-5d-4d Flop. It was about $150 for him to call, which he did indeed do with 8s-8c-Qd-6d. Turn and River came a 7 to give him a staight, but no diamond, so I did my bollox.
Oh well, 50p in the tin I guess, lucky I won a grand a couple of nights later in the $1/2 Hold'Em at the Orleans. Glad I'm up for the trip and playing well, it just goes to show that not everyone's having a bad time.