As with last year, the first four days of the World Series were absolutely exhausting and a nightmare to update. A 12pm to 4am shift and a lengthy taxi queue meant that we didn't get home till around 5am each night, and if you consider that it's in bed by 5.30am and up at 10.30am for the three s's, that's a hefty day's work with just 5 hours sleep and no free time – even during the breaks and lunch hour I'm uploading results and fulfilling my other blonde poker duties. When I outline it as such, updating really doesn't look like the pretty picture you think it is, and when you've witnessed Jen sleeping under a table in the pressroom, you wonder why so many think we live the life of Reilly.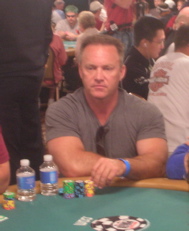 Of course, there are lots of plusses to our job, and one of them is some of the characters we encounter. The big names such as Matusow, Laak and Brenes are all jolly good fun, but some of the lesser-known names can be just as interesting, Jim Pitman being a prime example. He's now known to us as 'that guy' and has been bouncing around youtube for the past year or two after outdrawing Mr Hellmuth. You probably remember it, Hellmuth called him an amateur and added that he probably couldn't even spell poker. Well, we asked Jim how to spell poker and can confirm that he's not as inept as Hellmuth thinks.
We somehow ran into Jim at the Orleans and he kindly gave us a lift to the Rio Convention Centre in his pick up truck. He may have appeared to be a non-affluent 'taking a shot' kinda guy in that Hellmuth clip, but he's actually a millionaire after, bizarrely, inventing a cushioning system for the back of trucks that allows people to camp in their vehicle. No one had thought of the idea before and so he patented it and made his fortune. Honestly, it's incredible what can make you a millionaire, he even showed us his invention, and all it was was a bit of padding – unbelievable!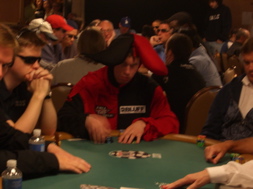 Someone who you wouldn't necessary describe as a character (in fact, he possess that 'dribble' factor that makes him look a bit gormless) is Jeff Madsen. He has become 'at one' with the stars after his double bracelet performance (hmm, triumph obviously brings famous friends) and lost a bet to Gavin Smith and Joe Sebok regarding who'd be the worst performer at this year's World Series. Jeff lost and, as a result, had to spend the whole Main Event, which I'd personally take as seriously as cancer, dressed head to toe in a jovial jester's outfit.
It was a cracking little costume, to be honest, but the highlight was seeing him pissed off when shortstacked or after losing a pot. There's nothing more amusing than seeing a grumpy jester, especially when everyone at the table is dressed in normal clothes. There was one hand when Jeff made an excellent River call with a small pair – he gave it a bit of the ol' pumped fist and wandered away from the table pleased with his call. All I could see though was a jester being serious, which tickled me immensely.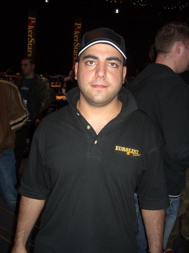 I heard a great story about Canadian star Marc Karam, who, incidentally, is nicknamed Myst after his favourite wrestler, Rey Mysterio, and proud of it! According to his mates in the media room, there is a player on the online cardroom that he frequents that possesses an annoying habit of hitting and running. As with the majority of players, Marc sat out when this guy sat down at his table and politely asked him to leave. The player refused and proceeded to challenge Marc. Marc finally cracked and said that he was going to clean him out of the $1,000 he sat down with and buy the most ridiculous thing he could with the money. Marc did indeed win and to my delight, he kept his end of the bargain and spent a grand on a single pen – awesome. If it was me, I'd love the fact that I owned a pen that was more expensive than the cheques I was signing.
Finally, I have to mention Miss Jennifer Mason, she chose to play Day 1B as it was he birthday and, in her own words, "I just can't think of any better way to spend my birthday than playing the World Series of poker."
For those that don't know, she was challenged by Roland de Wolfe to quite smoking for three months, and if she succeeded, he'd buy her in to the Main Event. Of course, this was her dream, so she passed with flying colours (although there were a few moody days along the way I can tell you) and Roland was good to his word.
Incredibly, instead of handing over cash, Roland just flicked up two 5k chips as if they were one penny sweets. One was a Bellagio and t'other was from the Wynn, the latter of which they wouldn't accept at the Rio. Jen was a bit worried that the Wynn wouldn't change it for her but, in the end, I think they did and she was in.
In terms of her performance, she never really got her head above average, but she was always hovering around 'comfortable', albeit after losing several thousand in Level 1. Finally, after hours of keeping in touch, she called a re-raise to her own raise with Tens during the very final level and then pushed on the King high Flop, unfortunately running into A-K. I think she tortured herself over this move for a while, but ultimately decided that it was the correct play to make considering her stack. Personally, I'm borderline, her opponent is going to call with A-A, K-K, A-K and probably fold Q-Q, J-J, A-Q, which is three hands versus three, so a very close call for me. Either way, we were all very proud of her and pleased that she got to achieve one of her initial goals of playing the Main Event. Next on the list, me, hopefully, but I'll have to wait till 2008 before I can win my millions…