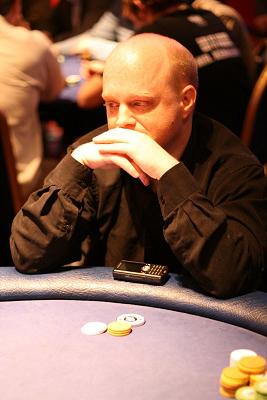 At first sight, JonMW is an educated, analytical poker player. He is probably one of the best prepared players in a live event, turning up at the first APAT event and regaling fellow competitors with his list of all the players, scoring them out of 10 as the players to watch, having researched as many as he could over the internet. Sadly his system was flawed in that he scored myself 10.
He does like to get involved on the social side of things too but will spend a lot of the social time at events garnering information on how to improve his game. He is more likely to be found on blonde on the poker hand analysis or the poker boards, or on a poker thread on the general discussion, but is also an intergal part of the fun side of blonde too.
He makes no apologies about not being the richest poker player around and his good bankroll management means that he will turn down a game if he feels that the costs are out of his reach.
Jon entered an on-line freeroll to win a seat at the $1,500 buy-in WSOP 2007 Razz Event, won the Freeroll and that coveted place. His knowledge of poker and his determination to succeed helped him progress in one of the hardest forms of the game, turning his freeroll win into 13th place and winning $5,818 earning the respect of those playing with him and the admiration of those blondeites that class him as a friend.