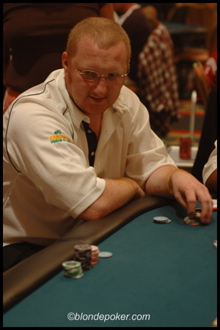 Jon 'Skalie' Kalmar is a 34-year-old professional poker player from Chorley in Lancashire. Never again though will I think of Skalie coming from anywhere else than 'Chorleyville' as numerous 2007 WSOP reports told us was his home after Jon's form filling shenanigans in Vegas this year! Before discovering poker, Skalie was once the lead singer in a punk rock band and could be heard at blonde bash four, pre-competition, extolling the virtues of The Stiff Little Fingers to a frankly perplexed table of twenty some-things.

Before entering this year's WSOP main event, Skalie admitted to enduring a "terrible" run at this year's Series. He failed to cash in any of the preliminary tournaments. However everything changed the night before the Main Event began. Dejected, he tried to switch his airline ticket and return home early, but was told the cost to change his departure from Las Vegas back to England would be over $600. Instead, Kalmar decided to enter the last mega-satellite at the Rio just before the start of the Main Event. He ended up in the final 17 winning a $10,000 seat and proceeded to swap various percentages of himself with friends and long time associates with whom he had been staying on his trip.

The rest, of course, was history as Skalie went on to finish 5th in the Main Event for $1,255,069. Skalie entered the final well placed. In the penultimate day's play which he began with 2m chips and in 17th of the 36 remaining players he moved to start the final table third in chips with over 20m. On the final itself Skalie began quietly, whether simply due to a lack of playable cards and situations in the wake of Jerry Yang sweeping through the final table because of a conscious desire to avoid confrontations I am not sure. Five handed Skalie took on Raymond Rahme with A-K versus J-J. The Jacks held and Skalie was out.

Skalie's achievement represented the highest ever cash in dollar terms in the WSOP by and Englishman beating Julian Gardner's $1.15m for 2nd in 2002. A finish 4th or above would have seen him eclipse John Duthie in the Poker Million as the all time biggest tournament cash by an Englishman, anywhere.

Skalie was one of the original regular players on Ladbrokes and has for a long time being associated with the Bad Beat stable. In 2005 he finished 82nd in the Main Event for $91,950. Other major achievements include 3rd in the second Ladbrokes cruise for $170,000 and a host of other major tournament final tables.