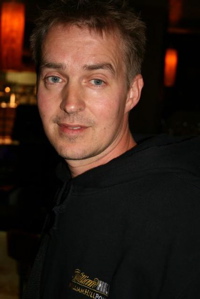 I haven't been posting much of late, but that's because I've been updating in Walsall and Dublin before returning to Ireland to play the inaugural blondepoker.com Waterford Winter Festival. I have plenty of tales to tell, but that's for another time. Before I do anything, I must backtrack a month or two and dedicate a few words to the incredible run of Julian 'Yoyo' Thew.

For those that don't know (what rock have you been living under!), Julian won the Baden EPT in Austria last month. Not only that, but he also triumphed in the Plymouth GUKPT in September, not to mention a victory in a Walsall side event and a Broadway final table sandwiched somewhere in between. To say he's hot after what was a turbulent (in poker terms) and exceedingly dry spell is the understatement of the year, and I think Julian now comfortably surpasses Mr Final Table himself, Ian 'Invincible' Cox, in the form stakes.

I first met Julian at the lively Gala Casino in Nottingham in June 2002 when I first entered the live poker foray. I don't think he'd been playing too long himself at that point (perhaps just 6 months in Ireland), and he certainly wasn't the full time sponsored pro he is now, but back then, he was fresh-faced, enviously younger looking than his years, and lacking the eye-bags that life in the poker fast lane is guaranteed to bring you. He was still as nonchalant as ever, not just in his cool, calm, collected approach to everything, but also physically, somehow striding into the cardroom each week as if he were on holiday in Cornwall, shamelessly donning cardigan and sandals.

What struck me about Julian was that he was one of the few genuinely nice guys in the cardroom, and someone you just knew you could trust your life savings with. I know it gets boring hearing every one say how he's the "nice guy of poker", but it's true. He didn't have a bad word to say about anyone, and he'd give everyone the time of day, even if you knew he despised them deep down.

In truth, that probably has its downside too, as I'm sure a few people would have taken advantage of his generosity and done him for a few bob. If you're as amicable and successful as Julian, then you might as well have the words 'Nip Me' tattooed on your forehead. I don't know for sure, but I'm hoping he's prepared to tell people to feck off if need be, especially after recent victories.

Having said that, Julian has backed me a couple of times, and tikay makes no secret about how generous Thewy is in swapping percentages. When I offered to sell Julian a percentage of myself in the recent GUKPT, he didn't batter an eyelid. I don't have a particularly impressive track record in tournament poker, so the chances are that his investment would go down the pan, but he fancied putting a bit of faith in me. I didn't come home with millions, but I returned him a profit nonetheless, and even though it wasn't much, it felt nice to actually thank him in monetary terms for his support.

But that's enough of the character assessment, what really intrigues me about Julian is not his kind-heartedness, but his continual success rate in side events. In fact, for a while, I was nicknaming him 'the Sid Event King', and if you check out his stats, you'll see why. Apart from the odd score in Amsterdam and a distant win in Luton, the majority of Julian's triumphs prior to Plymouth and Baden were in events of £750 buy-in or less. The £300 bracket in particular appeared to be Julian's niche, and if he made the final, he was almost guaranteed to win it. I don't think you'll find any player in the world with a better final table win rate than Thewy.

I often inquired as to why he could only succeed in the side events, but Julian never had an answer. Although I assumed that he either froze in the big one, his style wasn't as effective, or he just played better against a certain type of player, it would appear as though it was simply a matter of variance, as recent results, unless they were a fluke, have proved.

Julian's playing style has always interested me – bamboozled me, to be more precise. How does he do so well? Does he read players better than me? Does he have better timing? Perhaps he changes gears at the right time? Or maybe he is indeed as lucky as people seem to think he is.

In my opinion, I think the key word is 'gamble'. Although this is a word frowned upon by many poker geeks, gambling is a big part of the game and, if applied correctly, can be used as a huge weapon. For instance, Julian seems to have that magical ability to play a big stack better than everyone else, so if the opportunity for him to become big stacked arrives, he's willing to snap it up in a jiffy, even if he isn't the favourite in the hand. Of course, this strategy requires you to be a regular tournament player for rewards to be reaped, and Julian has had more than his fair share of fruitless outings.

In this sense, Julian is fearless, and is never worried about exiting a comp, whatever the level. Similarly, when he has a meaty stack, he doesn't hesitate in calling down players. If he has the inferior hand, then so be it, but he's not the one all-in, so he's happy to take pot shots at people. Not only is there the chance that he might win the hand (2-3 isn't that far behind A-K) and increase his lead even further, but it also sends people a stark message and one that they are unlikely to forget - mess around with Julian at your peril. He doesn't even have to win the hand to implant that fearsome reminder in his opponents' heads.

I could go on forever about the ins and outs of Julian's game, but at the moment, it's merely guesswork. He probably isn't sure himself what the key to his success is, he just has a natural game that is working, and he's understandably happy to stick with it, whether it makes sense or not.

Whatever you think of Julian and his game, the most marvellous thing is that he's a nice guy that wins. People often mistakenly say that poker players are some of the most honest people you're ever likely to meet. Bollox, from what I've witnessed over the last few years, it's the complete opposite, and Julian Thew is the exception. It's not true what they say, nice guys can finish first, and regularly too.