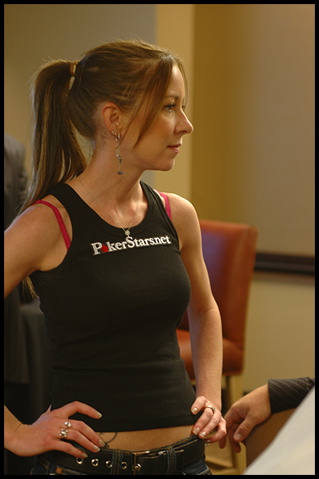 At first glance, you'd be forgiven for accusing Isabelle Mercier of being at the front of a long line of aesthetically pleasing women who jumped onto the poker bandwagon at the first opportunity, but whilst Isabelle would be the first to admit that her gender and good looks aided her journey, you just get the feeling that she has the right amount of determination and enough passion for the game to fulfil her goals regardless of these factors.
What's more, she didn't just appear out of nowhere like many high profile female players - Isabelle actually possesses a background in poker, picking up the game from an early age before going on to work for the World Poker Tour and Aviation Club in Paris.
Upon meeting the feisty Canadian, the first thing you notice is that she oozes confidence and lives up to her 'No Mercy' moniker as someone who's not going to give you an inch at the table. She's not shy, looking you straight in the eye as she talks to you and never hesitant to tell you what's on her mind.
However, what is most evident about Isabelle is that she is much more focused on succeeding in poker than you could ever imagine. If you see her reacting badly to a beat or an untimely misstep, then it's simply a reflection of her will to win. Isabelle isn't here to make up the numbers and look pretty, she wants to be the last man (or woman) standing and is fully aware of the importance of being a student of poker and always improving her game.
I caught up with the former lawyer to learn a bit more about the woman all the men fear.
Snoopy: As a someone who moves from hotel to hotel, do you not get tired of living out of a suitcase?
Isabelle Mercier: It doesn't really bother me, I love it in fact. I prefer to be on the move constantly, it's much more exciting.
Snoopy: Do you not get lonely?
IM: I have too many friends to get lonely. The poker community is too big to ever feel sad or alone.
Snoopy: Where is home?
IM: Nowhere permanent. I've recently bought a pad in Montreal, which I just had to have, I love it. However, I haven't really spent too much time in it.

Snoopy: Did you ever think you'd be where you are now?
IM: No, I can hardly believe it. I saw an opportunity, and I took it. A lot of people encouraged me to wait, build a bankroll and so on, but there are so few women in poker, only Lucy [Rokach] in Europe, so I thought I'd go for it.
Snoopy: How do you rate the importance of sponsorship?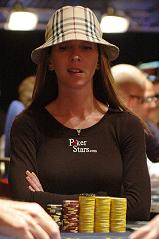 IM: I think it's very important. It can be restrictive at times, say if a comp is sponsored by a company other than PokerStars. Some mags even cut my sponsor out when they publish my image. PokerStars gave me an opportunity in poker, an opening, meaning I don't have to spend all my time playing tedious limits.

Snoopy: Would you still be playing as much if you weren't sponsored?
IM: Maybe not because of the costs, but through passion, yes, just not as much.
Snoopy: Will you still be playing poker in ten years time?
IM: Definitely, without a doubt. I'll never get bored of poker.
Snoopy: Are you solely a Hold'Em player?
IM: No, I love all games. I try to play a range and am keen on Razz. I need to improve my Stud though.
Snoopy: What is your biggest regret in poker?
IM: Nothing major, but I wish I still studied the game as much I used to. Asking Gus [Hansen] stuff, writing things down, etc. I need to be doing that now, I know I should.

Snoopy: When will we be hearing the pitter patter of tiny feet?
IM: Hmm, I'm not sure about that, need to find the right man first.
Snoopy: What are your aspirations for the near future?
IM: For a start, I would love to play and win the $50,000 H.O.R.S.E. event at the World Series of Poker.

Snoopy: Would you ever play with likes of Doyle Brunson on High Stakes Poker?
IM: If I had the bankroll, yeah, sure, I'd give it a go. As for Doyle, I have no idea how he keeps going, he's amazing.
Snoopy: Have you noticed any differences between European and American players?
IM: Not particularly. It is incredible that many players don't necessarily know how to play live. They bet then announce, make misreads, and so on. They barely know what's in their hands sometimes, it's ridiculous.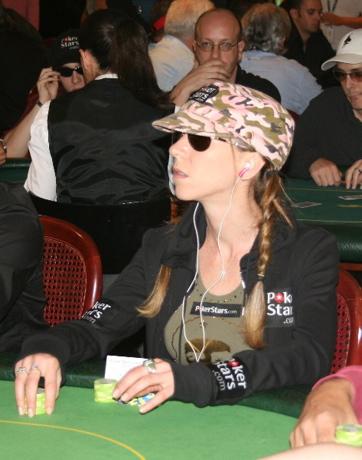 Snoopy: How useful is being a woman in poker?
IM: I don't think it's that huge a tool anymore. Women in poker isn't a big thing these days. People know me by now, so I feel like I'm playing on an even keel. I've never really thought of it as a gender thing to be honest, it's never been a factor for me. Most people experience a girl/boy divide at an early age, but not me, I used to play baseball with the guys.
Snoopy: If you could steal the skill of one opponent, what would that skill be and who would you choose?
IM: Definitely Tony G and some of his trash talk. I'm working on it all the time, but he does it so well and so effectively too. I may come off as rude as a result, but it's just at the table. I'm not too bothered about that anymore though, I'm just focused on winning. Table image is certainly important to me though, someone like Phil Hellmuth can be so foreboding with his size, shades, etc – you know he's there.

Snoopy: Where will we you be heading next?

IM: Well, I can't do as many as the EPTs as I used to, so I'll probably be playing more in America.

Snoopy: Tell me something that I don't already know about you.
IM: I'm into scuba diving and love swimming underwater in places like the Caribbean.

Snoopy: Online or Live?
IM: Tricky one, but I'd go for online due to the freedom.

Snoopy: No Limit or Pot Limit?
IM: No Limit.

Snoopy: Matusow or Hellmuth?
IM: Hellmuth.
Snoopy: Money or bracelet?
IM: The bracelet, unless first prize is 20 million.
Snoopy: Rio or the Horseshoe?
IM: The Horseshoe, I hate the Rio, it's like a carnival in there.
Snoopy: Normal or feature table?
IM: Feature.
Snoopy: Green or blue baize?

IM: Green.
Snoopy: And on that probing note, may I thank you for your time and bid you farewell.
IM: Thank you.