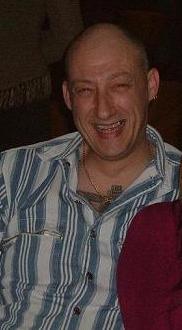 Just to recap, Poker player magazine had been running an online freeroll league on Betfair, and they had invited the top 27 players to the Western Club in London for a 5k prize pool live game.
All expenses were paid, hotel, travel, and free food and bar were promised as well.

Fellow blondeite 'booder' (pictured left) was one of the golden 27, and when he received confirmation of the package it mentioned that he could bring a guest with him and their expenses would be paid for too, and once he read the bit about free food and drink, he thought long and hard about who would appreciate the offer and came up with my name for some reason. (??)

So the day arrives and i had arranged with booder to meet him on the train as he was coming from Norwich, and the train had to stop at Colchester en route to London. We synchronise watches and he informs me of the train time etc, this was crucial as he had my ticket and if we missed each other I was in the mire.

I arrive at Colchester train station with plenty of time to spare and approach the barriers only to be met by a bloke in a yellow jacket who had obviously had a refund from the charm school due to his inability to master the very basics of customer service.

"Hello mate, I am meeting someone on the 12.15 train from Norwich to London, he has my ticket and will give it to me when i get on the train," say I.

"No you wont, you dont get on the station without a ticket," says he.

"Well that is a problem, can i buy a platform ticket so i can wait for the train and collect my ticket?" says I.

"No such thing as platform tickets," he helpfully replies.

Now i am getting just a tad knobbed off here and have to restrain myself from telling him what I really think, and decide to try a different approach.

"How about I stand by the fence and ask him to throw my ticket out of the train window as the train is approaching, then rush back here and show it to you?" I say.

"That would be fine," he says, without once understanding the sarcastic tone in my voice. Finally i just say, "Look, just get a supervisor down here, and let's see if we can sort this out." And with a huff and a puff he radios for the supervisor who is there within 2 minutes and hears my story and says, "No problem sir," and opens the barrier !! GRRRRRRRRRRRRRRRRRRRRRR

What is it with people in uniforms? Give them a bright yellow jacket and a badge and they want to march on Poland FFS.

Anyway, the train arrives at colchester on time and I meet up with booder and off we go to London, the train journey flies by as we discuss cheltenham prospects for that day, and other such important issues, such as tikay's age and what we should arrange for his upcoming 65th birthday.

We depart the train and start the adventure which is a journey accross london on the underground system, which despite three changes of tube, we manage quite well and arrive at Park Royal Tube Station which is a 2 minutes walk from our hotel.......... yeah RIGHT!!! Instructions state, "Leave station, go under subway and hotel is two minutes walk on the left." The first problem was finding the subway .. we walk left, no subway.... we walk right, no subway... we ask a passing cyclist, she says, "Yes, the subway is just down there on the right" ... about 3 minutes of walking later, we give up and walk back to the station, only to find that the subway was well disguised and hidden about 20 yards from the station entrance lol.. what a start!! But it couldnt get worse, and we were soon in our hotel room and planning how booder would win the comp, and i would play some side action and make good use of the free food and drink.

It's still early, and we decide to get changed and head off to the Western Club for a spot of lunch and get ready for the evening's entertainment... booder reaches into his bag for the literature from Betfair, and pulls out a handy litle map which pinpoints the Western Club's location and off we go...

We leave the hotel and turn left.... me dressed only in a POKER FOR CHARITY short sleeve shirt (It was bloody freezing, but the club was close to the hotel and I thought I would brave the conditions). My accomplice, booder (philleas bloody fogg), was dressed for arctic conditions, big warm coat etc. Two minutes passes and Philleas fogg comments that it cant be far, it only looked a few minutes walk from the diagram on the map... I joke that it is probably that great big red building that is about a mile and a half in the distance... needless to say we arrive at afore mentioned big red building only to find it is a hotel!!! We decide to consult the map...Philleas bloody fogg has left it in the hotel!!!.... I say we should pop into the hotel and ask directions, so in we go....

The lady in reception is ever so helpfull, she consults google to find the club, then inputs the postcode and address into some map thingy and prints us off a map that highlights the club.... about 2 miles in the opposite direction that we have just walked! GRRRRRRRRRrrrr.

Off we set back into the freezing conditions back the way we came, Philleas bloody fogg was nice and warm in his big coat, while i was doing my best to not show the first signs of hypothermia setting in. As we were walking down the road I kept getting strange looks from passing motorists, and can only imagine that they were saying. "Look at that mug walking around London in a short sleeve shirt in this weather." ... to be honest, they had a fair point lol.

We finally get back to our hotel and Philleas heads toward the entrance and says, "Shall we pop in so you can get your coat?" I reply that i cant be bothered, and will just brave the conditions... What a good job, because no sooner had we passed the hotel, we spot the club... It turns out that it was THREE BLOODY DOORS AWAY FROM THE HOTEL!!! Oh how i laughed... NOT.

We ring the buzzer on the door, and we are in the Western Club....
We are warmly welcomed at the front desk by a guy called Geoff Owen, he signs us in and we follow him up the stairs, First impressions were WOW, leather seats and a plush bar area, Cheltenham on the big tv screen and we are offered drinks and promised by Geoff that when we had finished he would personally show us around the place.

The club itself was very quiet, we were early and they were still preparing for the night's events. We peeked into the main card room area and were suitably impressed by the size of the place and the plush decor, plenty of tables and plenty of space between them. The setting was perfect, and the signs were good for an entertaing and fun-filled evening.

Geoff reappeared and, as promised, took us on a tour of the place, A snooker room with 2 full size tables, a plush V.I.P. area with a superb poker table and luxurious decor and the main card room with room for plenty of players. Although I will remember to thank all the staff later in the post, I would like to thank Geoff for his warm welcome, he didnt know us from Adam, yet he made us feel like V.I.P. guests and that was impressive and memorable.

Slowly but surely the place started to fill up, and people were gathering in the bar area.... Then I hear the magic words... Geoff whispered to the bar manger that she could start the Betfair tab now.... Well, i just happened to be the first in the queue and ordered a lager top for booder (I had stopped calling him Philleas by now) and a JD and Ginger for myself, the lady behind the bar asked if I wanted a large one, but I replied that I only drank singles until 9 0'clock, and then it would be doubles until we leave.

Before long the players are asked to draw for seats and after a few words from the Poker player magazine people, and some more words from the Betfair reps, the game was underway...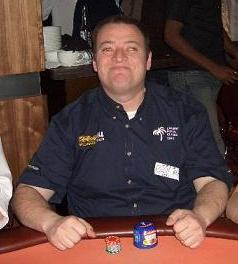 Poker player had arranged some bounty's for knocking out their 4 journos that were playing the comp, and they were quality chip sets, very nice. I just happened to ask one of the Betfair guys if they were gonna give a prize for the first person out, to which he replied that they had 9 copies of Super System 2, one each for the first 9 out... we had a laugh when I suggested that it wasnt exactly tactfull to say to someone, "Unlucky on being knocked out so early, heres a book... go read it!!"

2 hands have gone by when booder approaches me and lights a ciggy, i jokingly ask him if he is out already, and he replies, "Yes." He wasnt joking either, but I laughed anyway and presented him with his book LOL LOL.

Time for some side action to start, and along with booder some of the betfair reps and a few other player's guests, we start a sit and go with a £20 buy in, and the ever helpful marketing manager Geoff offers to deal for us.

booder takes an early chip lead with some fearless play (and a sore nose where the deck kept smacking him right in the face). He takes out a player with A-A versus her Q-Q, small raise pre flop and the flop of A-Q-6 meant a bet , a re aise and a rereraise all in... jammy fish !!

However, his luck didnt last and it was me that eventually took him out and I finished third for a small profit... booder made his way to the cash table and I made my way to the bar. It was now approaching 9pm and the bar maid had remembered our earlier conversation and when I went to the bar she got me a large JD and said, "It's only 5 to 9, but no point waiting... what a girl.

As time progressed, more and more people were joining side games and it wasn't long Before I was involved in another sit and go, although by now i was a little worse for wear and ready to have a laugh.

We had a guy on the table that was a bit off a numpty, and he was giving it all the, "I will protect my blinds, dont even think about stealing." crap. Talk about make yourself a target. It just so happens that I would be on the button when he was on the big blind... oh happy days... It couldnt have worked out better, my first button he reminds us about his blinds, and as soon as the cards are dealt I immediately look at my cards out of position and see Q-Q... I wait for the action to reach me and am faced with a couple of limpers and say, "Never mind your big blind mate, I wont allow any limpers on my button and pushed all-in. Small blind passes and big blind gives it a dwell up before announcing that he will let me get away with it just this once and thats all... I reach for the chips and muck my cards saying, "Sorry mate, but thats the only way i know how to play 7-2 off." Cue plenty of laughter and matey boy going a nice shade of crimson.

The very next round I am on the button again and before the cards are dealt i announce that no limping will be allowed, and that his BB is mine... all pass to me (respect), I look down and have to do a double check... i have got A-A... I look at the guy in the BB and smile as I push all my chips in.... SB passes and BB goes into the tank.... The other players on the table start getting to him. .. "call him, he is bullying you," and plenty of other banter. It was a superb table, the crack was superb... Great atmosphere and good natured. Eventually the BB calls for all his chips and the cheer goes up when he turns over 77 to my beautiful Aces... No suprises and he goes out in 10th place, but takes it well and goes to the bar to get the drinks in for the table. I think I busted out in about 6th, but every single person who busted out stayed at the table just to enjoy all the banter and crack that we were having... I can honestly say i have never enjoyed a social evening of poker as much as I did that night, every single person joined in and it was very special.

The food at the Western just kept coming, from burgers to hot dogs, mini fish and chip pots, choccy cake etc etc ... a fantastic effort which was appreciated by everyone.

I would like to thank Everyone at the Western for their hospitality and enthusiasm in running the event, marketing man Geoff Owen is a top bloke, card room manager Simon Yusuf, who some may remember from the Vic... so comfortable in his role now he is not bound by the restraints of faceless men in suits, he did his job with superb efficiency and humour and it is to his credit that the evening went without a hitch. From the valets to the dealers, everyone was pleasant and had a smile on their faces, it makes such a difference to a clubs ambience when you see happy faces, and they were on display in abundance at the western.... If you ever get a chance to visit the place, take it, you wont be dissapointed. I thoroughly reccomend it, and will return for certain.

I must also give a mention to fellow blondeite Pokerram, he and his good lady were there also, and we had a good laugh and a giggle throughout the evening. Mrs pokerram is lovely, and she knows some really good dirty jokes

Most of the guys that I was playing the STT with were staying at our hotel, and we decided that we were gonna get some action going back in the hotel, so off we go for some more entertainment, and a mission to find more alcohol....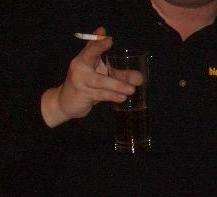 And off we go to the hotel... about 12 drunken bums all wanting some poker action and some more beer... We are sitting in the lobby and trying to work out where we can get beer at 4 in the morning when someone comes up with the bright idea of having a whip round and sending someone off in a cab to get some beer from somewhere... The cab arrives and gives us some quality info about a shop he knows where we can knock the owner up and he will sell us a few crates
Someone is despatched for the liquid refreshment and we than sit in the lobby and try to decide whose room will be used as the communal doss house and card room... I may have been off my face, but there was no way they would be coming to mine and booder's room

Eventually the sherpa arrives back in the cab carrying 2 cases of Fosters... (it was late and we were too far gone to complain at the poor choice of lager) and we con one of the more passive members of the team into letting us use his room.

What a motley bunch, one of the guys had not said much all night, I christened him Bono. He had long hair and bore a slight resemblance to the U2 frontman, although when one of the guys asked why I called him Bono, I replied it was because he eats dog biscuits and barks when he wins a pot

Also, there was a guy who has since joined the forum, Skybluesam, his name is actually John and he has the worst haircut I have ever seen. I spent the entire night ripping the piss out of him, and to his credit he took it well... He had no choice really as it really is shocking... I can only describe it as an iron on mullet which has been butchered by a barber with blunt scissors and cataracts.... I really wish I had taken a pic, and if he is reading this I implore him to post a pic of himself just for my entertainment if nothing else...

Another new member called Tank maestro was there, and he had brought his dad with him as his guest, both scousers and superb entertainment. I had everyone calling him dad by the end of the night, and he loved it.

We had no chips, but Skybluesam had plenty of roll up filter tips, so along with some pound coins we managed to give everyone a decent "chip" stack and started the game....

Now this is where my memory goes... I was so drunk, i cant remember much more, suffice to say I bombed out early and Tank and his dad ended up chopping the cash and becoming the joint "Travellodge Invitational poker champions." To the many other guys that played in the game, I apologise for forgetting your names , but I'm sure you will understand when you recall how much booze we consumed that night.

It was without doubt one of the best social evenings of my life and one which I will certainly never forget (apart from the latter stages at the hotel).

Many many thanks to booder for inviting me, I hope I havent blown my chances of another invite LOL.... I truly appreciate the gesture, you are a gent.

And that's that..... from there it was on to the Vic for what was going to be a 2 day trip but turned into a 7 day one LOL... but that's another story.... Are you ready for more reports from poker events which reflect the social side of poker rather than the cards ??