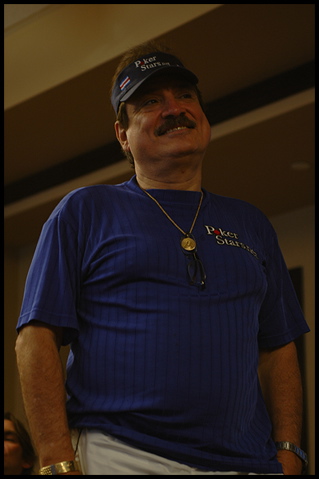 Known to many as Huuuuuuuuuumberto, the charismatic Costa Rican is one of the game's greatest entertainers, annoying to some, but a breath of fresh air to most. Famed for his brightly coloured tracksuits and crowd-inducing table antics, which include sliding a toy shark towards his goggle-eyed opponents, Humberto is a TV producer's dream and a timid player's nightmare, but either way, is guaranteed to liven up any a dull game.
But whilst some may mock his perhaps childish behaviour, Humberto undoubtedly has a mature poker brain, accumulating a set of results that would make any poker player's eyes water. Two World Series bracelets (both in 1993), three WPT final tables and a half a million win at the 2002 World Poker Open in Tunica have all contributed to his near five million in tournament winnings - far from a laughing matter.
I've interviewed a number of people for blonde poker, but my encounter with Humberto during January's Bahamas EPT was by far the most pleasurable. He may be loud and garish at the felt, but this is just his nature, our exchange proving that he is equally enigmatic away from the table. But within that bubbling personality lies a heart of gold, one that is passionate about poker and, although having played the game for a number of years, still brimming with the endearing enthusiasm of a wet-behind-the-ears rookie.
Humberto's English isn't great, and combined with my Brummie accent, we did encounter a few inevitable obstacles. But aided by our emergency interpreter and my willingness to allow him to continue answering a question that I didn't ask (I didn't have the heart to tell him), I quickly learned that there's a lot more to the Costa Rican than meets the eye, and he truly does have a lot to say. In that sense, I hope you enjoy reading his response to my questions as much as I enjoyed asking them.
Snoopy: What is the story behind the nickname and the toy sharks?
Humberto Brenes: When I first went to Vegas in 1987, I went straight to the Horseshoe Casino to play poker and everyone would say, "Humberto, why do you go there, that's where all the sharks play?" "But I want to play the sharks," I'd respond. I wasn't playing for the money, I was playing for the challenge, so I was happy to take on the likes of Johnny Chan, Doyle Brunson and TJ Cloutier.
Of course, these games were not quite the same as the ones I played in Costa Rica, and I quickly began to lose money. So, in 1988, I read the books, studied the game and came back a better player. It was then that I came 4th in the World Series of Poker Main Event behind Johnny Chan and Erik Seidel with TJ in 5th. I'd been playing for a good time and proved that these guys didn't scare me.
In 2006, I played as a sponsored pro for the first time and on the opening day of the World Series, I was given this plastic shark and, remembering what people used to say about the sharks at the Horseshoe, I decided to take it to the table with me in my pocket.
In the Main Event, I had Ace Two of diamonds on the very last hand of Day 1 and managed to River a flush. When I won this hand, the cameras came out and I brought out the shark. One media guy asked in Spanish, "Who is the shark?" and I stood up, spread my arms and shouted "Huuuuuuuumberto".
In 2007, my brother saw this shark in a shop with a flashing red light and knowing my nickname and my other shark, bought it for me. They are both TV stars now, 006 and 007. I'm not a superstitious player though, it's just for fun.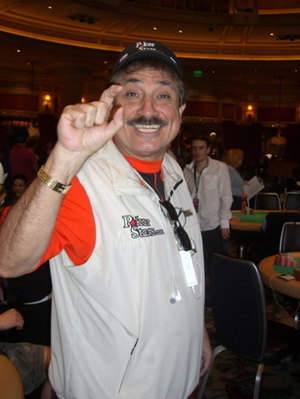 Snoopy: Are your elaborate actions, for the cameras, or are you really like that? Is it strategic?
HB: A lot of it is strategy. People don't always like the cameras, so sometimes I think the sharks intimidate them. I might be able to get them to fold a big hand if they know the cameras are going to come over. They don't want to be seen on TV making the wrong move.
Snoopy: Do you ever feel obliged to maintain your personality?
HB: No, it's not a problem anyway. I'm always having fun, not like Hellmuth who changes depending whether he is on or off camera.

Snoopy: What did you do before poker? Have you always been a gambler?
HB: I have a business in Costa Rica and an engineering degree, but I've always been a gambler. I used to play baccarat and craps in casinos, but I wanted a better life so I left the casinos to play poker in the cardrooms. I stopped drinking, smoking and focused on cards rather than just gambling.
Snoopy: As someone with a background in mathematics, would you say that your game is more based on mathematics or having a feel for the game?
HB: Both are important, but a lot of it is to do with watching players and studying their game. If they passed this hand before, then I know there is a good chance they will pass here, and so on.
Snoopy: You are known as quite the family man, but do you find it hard to juggle family with your life as a travelling poker player?
HB: Family has always come first with me. There are too many temptations in Vegas, so I try to take my family everywhere I go. I have three brothers, two of which have won WPT titles and often play live tournaments. It used to be family, company and poker, but now it is family, poker and company, but family has always been top.

Snoopy: You have been in the game for many years. Do you think the standard of poker has changed, have you had to adapt your game?
HB: It is harder now because the players are so aggressive. Many of the players are like the young men who go to war, they are fearless and not concerned with the consequences, which makes them difficult to play. They can't wait to get their chips in the pot either, when sometimes I don't want to gamble. What I do to combat this is just play tighter and wait for my opportunities. I can often end up folding the best hand.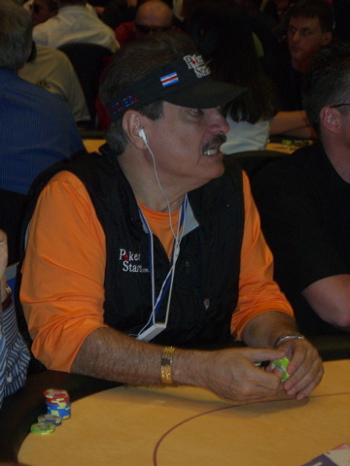 Snoopy: Do you enjoy the game more today than before?
HB: Yes, definitely. I like the TV, the popularity, being a celebrity. It all gives me a reason to play better.
Snoopy: What do you consider to be your biggest achievement in poker?
HB: I've won millions in the WPT, but my proudest moment was the half a million dollars I won at the World Poker Open in Tunica in 2002. 2000 and 2001 had been a bad time for me and this was my first televised tournament.
Snoopy: If there were one thing in poker you could change what would it be?

HB: Change the Americans (laughs), especially Moneymaker. On a serious note, I'd stop players being taxed for poker winnings.
At this point, Chris Moneymaker, who had been lurking during that question, suggests that Humberto Brenes change Pocket Eights. Humberto gives him a menacing, but playful look.

Snoopy What advice would you give to the young players of today?
HB: They should play small. There is so much money in tournaments, that a young player can win millions just in one tournament and not really learn much about the game, it's very dangerous. They should get an education first. Go to university and then you're my horse. It's all about the long run, like Chip Reese, you need to be a good player with an education. Stu Ungar was a great player, but he had problems. You need to be happy in poker.
Snoopy: What was your lowest point in poker? Have you ever gone bust from the game?
HB: I've never gone broke from the game, I've always been comfortable. The money has never meant much to me, it's more about the bracelet and the honour of winning. I had a bad couple of years at the start of the millennium, but nothing major.
Snoopy: Have you ever had an injury from playing poker or been hampered by an injury at the table?
HB: No injuries at the table, but I did have a spinal column operation from carrying bags of coffee as a child which meant that I couldn't stay seated for long periods of time. At home, I am always relaxed with a massage chair and I use a wirelesss mouse so that I can be comfortable. I let the children do the talking online because my English isn't very good. Because it's 10/20 cents, people don't believe it's me, and I often have to say that it is my daughter typing in the chatbox.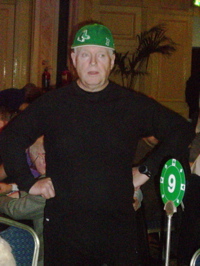 Snoopy: Which players do you admire in the game?
HB: Dan Harrington is one of the best, say in the top five tournament players in the world. He has an excellent record yet hardly plays. People like Phil Hellmuth play all the time. Phil has played virtually every WSOP event, which is why he has so many cashes. He is beating me but I have played less events and have run well in the Main Event whilst he is playing all the side events.
Snoopy: Finally, how would you like to be remembered in poker?
HB: As someone who was able to make a life from his hobby.
Snoopy: Thank you for you time, Mr Brenes.
HB: It was a pleasure, my friend.