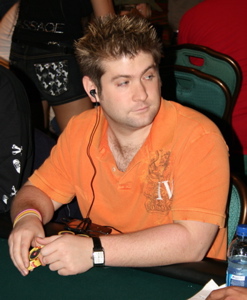 As 2007 drew to a close, I received the opportunity to interview Gavin Griffin. Although a former WSOP bracelet winner and, at the time, the reigning EPT Grand Final Champion, Gavin still wasn't considered one of the superstars of poker. Maybe it's his reserved, laid back approach, his instant likeability, or his resistance to the celebrity of poker, but either way, he was never pooled in the same category as some of the current greats, even after accruing three million in prize winnings in as many years.
Then, in 2008, amid talks of who was going to be the first to hit the treble, Gavin Griffin surprised everyone by becoming the first WPT, WSOP and EPT winner by triumphing in January's Borgata Winter Open. Joe Hachem, Roland de Wolfe, Devilfish - there were numerous names that cropped up before Gavin's, but, as he did when he became the youngest ever bracelet winner, he remained unfazed.
Nowadays Gavin has started to garner the recognition his record deserves, and, along with Chad Brown, became yet another addition to he ever-expanding Team Pokerstars. However, when I caught up with him, Gavin couldn't boast such a lucrative sponsorship deal, and had yet to taste the WPT glory that would see him thrust into the record books.
What's most ironic about Gavin is that although he doesn't play up to the camera and yearn for the constant appraisal of the media, he remains one of the most instantly recognisable players due to his fluorescent hair colour and ever-changing locks. But of course, this isn't a form of selfish attention seeking, but a method of raising awareness for breast cancer, a disease that Gavin's girlfriend Kristen recently survived.
"I'm tired of the hair," he confesses. "Although it was my idea rather than Kristen's. Personally I would shave my head if could, but I'm not sure that's a good idea." "We recently did a sponsored walk," adds Kristen, "and it was a huge success. It had a big influence and we received a lot of emails. Hopefully, people are starting to think about how poker can be used to aid charities, which is a great thing."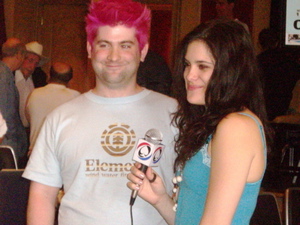 What was becoming evidently clear to me was that Gavin was just a shadow of the young, vulnerable 22 year-old who won a bracelet in 2004. Out-gunning the likes of Ram Vaswani, Garry Bush and Phil Hellmuth would test any young player's ego and perhaps encourage them to live the high-life, but, contrary to what some sources say, Gavin claims he remained humble and didn't get ahead of himself. "I bought a car," he admits, "but nothing too balla. I didn't receive that much attention, and I didn't go looking for it."
Although claiming a low profile, there's no denying that, for a short time, Gavin was the subject of an overblown scandal that would be more suited to the Sun tabloids than the world of poker. Rumoured to have been duped into emailing crude photographs and transferring money to a fellow player who he mistakenly believed to be a voluptuous young lady, Gavin's name and, in certain cases, his sexual organs, dominated the forums for a short period of time. Deciding that this would be a sensitive topic that could see an abrupt end to the interview, I shirked the issue and inquired as to how he got involved in poker in the first place.
"I didn't start off as solely an internet player or live player, I played a combination of the two, especially home games which I loved. Before I got into poker full-time, I trained as a speech therapist, but I don't think that it's particularly useful in poker. I can tell if someone has a speech impediment, but that would be about it."
For someone who resides across the pond, it seems unusual that Gavin would find a home away from home at the European felt. Even before becoming a PokerStars sponsored pro, Gavin was a familiar face to the blonde poker live update team. "I haven't actually played as much in Europe as people think," he replied. "I qualified online for Monte Carlo and I guess the win has made me a recognisable face. I do play a lot of live circuit events though, you won't see me online as much as some of the young American players."
Gavin then went on to praise the Monte Carlo venue itself, claiming it be one of the best places to play poker. "I also love the Bellagio, that's an excellent venue. And in the Commerce Casino, the games are great." "Would you ever consider moving to Europe to avoid paying tax on your winnings?" I ask. "I do like it in Europe, and I might consider it one day, but for the moment I have no real urgency to move away from the States as I can always play poker online on PokerStars."
Describing his European opponents as "more aggressive than the players back home", we moved on to his WSOP and EPT wins as I pondered whether or not such a big scoop would make it difficult to play the lesser events. "Actually, winning the bracelet didn't change my bankroll as much as you might think," he explained. "I didn't get ahead of myself and go straight for the biggest games around, I just carried on playing pretty much the same levels. In that sense, I don't really have any trouble motivating myself for events, the fields and prizepools are so big that the prospect of winning tournaments is still exciting. I'm a competitive person, so I never have any problem focusing on the task in hand."
As someone who won his bracelet in Pot Limit, you'd be fooled into thinking that this was his chosen speciality, but not even No Limit is his real game of choice. "I don't play it too much in tournaments, but I'm actually a big fan of Limit, and often sit down in Limit cash games instead of No Limit or Pot Limit."
At this point I realised that Gavin was most likely the calm, patient type who could deal with the frustration that Limit poker brings, but what has also caught my attention about Gavin in recent times is his coolness under pressure and general composure at the table. "I've always been a clam person really and have never suffered from nerves. I think it's just my natural personality. I don't make any special effort to remain cool or anything, it's just the way I am. Maybe when I first started playing I was a little more uptight than normal, but not now, I've sorted it out and learned to deal with anything poker brings."
As with everyone I interview, I love to pick their brains and find out what in poker really gets their goat and, if they were in charge, what they would change to make it a better game to play. It always seems to be a question that sees the interviewee burst into life, and Gavin was no different. "Wow, this could be a really long list, but if there's one thing off the top of my head that I really think needs changing, it's the show one show both rule. They implement the rule at the Bellagio, but there's absolutely no point to it. I guess they're just trying to clamp down, but it just makes no sense within the game. Needling is a part of poker, so why shouldn't you be allowed to show one card to tease your opponent if you think it'll affect their game?" "I'd change Humberto's shark," suggests Kirtsen. "He's a great guy, but I hate that shark."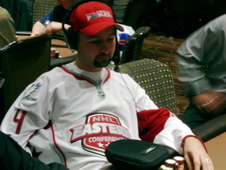 But what about his own game, is there something Gavin would like to change about the way he plays, or, even better, what skill does he envy in others? "I've never been big on table talk," he says, "but I do admire Daniel Negreanu's ability to use table talk to his advantage. I wouldn't try it myself, it's just not me and I'd feel uncomfortable doing it, but it's a great skill to have."
On that note, Gavin was distracted by players entering the playing area, and a PokerStars representative quickly beckoned him away. As such, the interview was cut slightly short, and I was forced to cross out some of the questions I had planned. However, in a short space of time, I genuinely felt that I'd been able to get a good idea of what Gavin was about. Armed with a formidable record at such a young age, it's clear that there isn't much about Gavin's game that he needs to change. On top of that, the way he holds himself away from the table is second to none, he a true professional in every sense of the word and more than worthy of his PokerStars sponsorship. From my perspective in the short time I'd known him, being well-liked and respected was more important to him than the gleam of the spotlight, and I don't think that is about to change.
Many players are gents in the front of the camera and only reveal dislikeable character traits when behind closed doors. With Gavin, however, what you see is what you get, and he's equally amicable behind the scenes as he is in front of them. It's this honesty that you can't help but respect. It may not have given him the same level of attention as more boisterous players, but he doesn't care, he'll just continue to be himself and, most likely, win even more major events as 2008 progresses. Get those record books ready, because Gavin's keen to keep rewriting them.