| | |
| --- | --- |
| Buy-in: | £750 |
| Prize Pool: | £59,250 |
| Entries: | 79 |
| Rebuys: | no |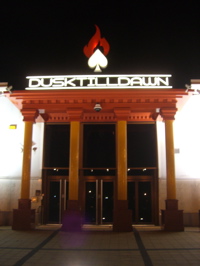 Whenever you make the trip up the M1 to Nottingham's recently erected Dusk Till Dawn Club, there are a number of things you can rest assured of: a cracking atmosphere, impeccable facilities and service, and Chris Bruce winning yet another bloody event! Of course, and without ever doubting the conclusion, all three came into fruition last weekend as Yongsta and the boys showcased their second foray onto the festival scene, the DTD Mini Poker Festival.
Initially, numbers were dyer as few seemed keen to part with the £750 asking price, but with entries accepted up to the end of level two, we finally rested upon a respectable, but still disappointing figure of 79. During this period, early exits were being surpassed by latecomers, and at times Dana and I wondered if we were stuck in an oblivion and destined to cover the event forever. However, once Simon Trumper announced it would be a two-day affair, we pumped up the balloons, opened the party poppers and cheerfully celebrated our upcoming day off as if it were New Year's Eve.
Looking around, it appeared that the eventual winner of the event would have earned his crust, with DTD serving up possibly the best pound for pound event of the year so far. If insider Paul Jackson wasn't enough to contend with, any lambs to the slaughter would also have to combat established pros such as Joe Grech, Trevor Reardon, Steve Jelinek and WSOP hero James Akenhead. And then there were the blondeites, Fran Creed, Neil Giblin, Rick Trigg, James Dempsey and Matt Tyler just a handful of the faithful flying the flag.
Although eyes wandered over to the likes of Ali Mallu, Tony Phillips and Andy Johnson in search of early action, it was an unlikely source that would be lighting the maiden firework. The history books would suggest that Adam Wilkinson is harder to remove than limescale, but within minutes he became the first elimination of the day as his set of fours lost out to Richard 'Forrester' Sherwood's flopped straight on a 2-4-5 board.
Also kicking the early bucket was livewire Tony Nicholls (pictured). Boasting more moves than John Trovolta on crack cocaine, Tony pushed with K-T after Brummie Godfather Marc Goodwin had made it 1,000 from the small blind. "Do you want me to call?" inquired Marc. "Do what you like, mate," answered Tony. Marc did indeed call, and his A-K emerged triumphant. "I didn't think you'd call," added Tony as he departed.
As a pink-shirted Richard Sherwood teased hitting that magic 30,000 (jacks versus queens with a jack on the river may have helped), a motley crew lay in wait just a few yards behind, Andrew 'Greekfish' Andreou, Michael Lee and the Artist Formerly Known as Mick McCool all enjoying early successes. Meanwhile, the only thing 'early' about Albert Sapiano, Dean Sanders and Mohammed Shafiq's brief performance was their ensuing shower.
As Philip Ashton, Nicky Evans and Peter Charalambous joined the aforementioned in the locker room, veterans of the felt Mickey Wernick, Joe Grech and Alan Vinson began to amass piles of chips that would make Harry Ramsdon weep, the latter in particular when he momentarily dipped into the chip lead with 50,000. However, Vinson's time at the top would be short-lived as his stack was decimated in just two hands, one of which involved a missed straight and flush draw against Tom Nightingale for a monster pot. On a neighbouring table, serial final tablist Chris Bruce was slowly breaking down that half-century barrier, winning more races than Carl Lewis and making more sets than Roger Federer. There were numerous victims, one of which was Pete Linton whose A-Q ran headfirst into pocket eights on a Q-8-5 flop. No Brucie Bonus, and he was gone.
Heading into day two, it was Chris Bruce who held the lead with 88,500 with James Bishop leading the chasing pack in second. Just one off the bottom was Mickey Wernick, but as Simon Trumper correctly announced, "If there's anyone here that can quadruple up a few times, it's Mickey". However, although he got it in with the best of it, Mickey would fail to live up to those expectations, his A-K being outdrawn by Neil Giblin's A-Q and a final K-J versus 2-2 encounter teasing with an all spade K-J-Q flop, but a cruel flush on the river.
While Dana and I were tucking into our sausage and mash like starved animals, we were momentarily interrupted by the mother of all pots as Steve Jelinek's pocket queens ran into the pocket kings of Richard Berridge. A lack of a threesome sent the Jelly wobbling to the felt, whilst local boy Berridge leapt into the chip lead, a gnat's breath ahead of Goodwin who had crept into second.
Although the day witnessed more anal intrusions than a Ron Jeremies' epic, the worst was yet to come as Paul Lammas found himself rising from his chair confidently with aces against the desperate A-J of Neil Giblin. The 7-4-T flop looked as harmless as a rubber knife, but upon the eight turn and nine river, both players and crowd alike were in disarray as a dumbstruck Lammas was sent hurtling to the rail in eleventh.
With Jelinek's 5-4 suited unable to overhaul Richard Stanley's Big Slick, we had our bubble boy and thus our final table:
Seat 1: Andrew Andreou -- 35,900
Seat 2: Marc Goodwin -- 165,600
Seat 3: Jon Omara -- 70,300
Seat 4: Chris Bruce -- 83,800
Seat 5: Richard Berridge -- 188,100
Seat 6: Richard Stanley -- 52,100
Seat 7: HWCBN -- 48,600
Seat 8: Shahnawaz Randera -- 102,600
Seat 9: Neil Giblin -- 43,200
After a slow start which focused mainly on the art of the blind steal, Chris Bruce showed his worth when he made a brave call for 50,000 with A-3 on an 8-A-6-2-Q board. Table bully Richard Berridge had not only raised preflop from under-the-gun, but also fired a bullet on every street before tapping the table and mucking dejectedly on the river.
Following 60 minutes of back and forth play, we finally lost our first man in Neil 'jakally' Giblin. Pushing with pocket fives, he was looked up by Marc Goodwin's A-4 which proceeded to flop an ace to send Giblin out in ninth. With Richard Stanley's K-Q failing to fend off Richard Berridge's pocket sixes, it would be He Who Cannot Be Named who would suffer next. In what proved a table brimming with bad beats, HWCBN ran a set into Marc Goodwin's turned set before finding himself all in with K-Q against Berridge's Q-J. A testicle crunching 4-3-J-6-6 board later, and, like a whisper in the wind, the phantom was gone.
After Jon Omara snapped up sixth (A-3 versus Andrew Andreou's 8-8), it was Marc Goodwin's turn to feel the wrath of the Poker Gods. Not only did he see his flopped set of fours viciously outdrawn by Shahnawaz Randera's gutshot draw, but he also witnessed his A-T lose out to Berridge's K-T when a second king hit the flop. A later failed K-9 versus A-3 encounter, and he was forced to settle for fifth.
Our final four would showcase alligator blood for numerous rounds, but resistance was futile as Richard Berridge's journey came to a sudden end at the hands of Randera. Although he doubled through just moments prior with jacks versus the tens of Chris Bruce, Berridge pushed all in a few hands later with A-J but was looked up by pocket queens which duly survived a raggy flop. As the crowd grieved their hero's surprise departure, an elated Randera constructed a stack to the value of 500,000.
Although Randera was your new chip leader, his two foes were tougher than a two dollar steak and duly doubled through in quick succession. First Bruce with kings with A-K, then Andreou with A-Q versus K-T. As a result, there was a reshuffle of chips:
Seat 1: Andrew Andreou -- 295,000
Seat 4: Chris Bruce -- 375,000
Seat 8: Shahnawaz Randera -- 122,000
However, this was the topsy-turviest of finals, and as quick as he had lost them, Randera would regain his lead upon eliminating Andreou (right) in third. After his Q-5 outdrew Andreou's A-Q on a 3-8-2-5-Q board, Randera caught Andreou's fingers (arms, legs, tootsies and any other body part for that matter) firmly trapped in the cookie jar with pocket tens versus J-8. No jack arrived, and that was all she wrote for Greekfish.
Without too much hesitation (it was 4.30am, after all), the two remaining Trojans agreed on a DTD style chop and it was all over, Shahnawaz Randera performing miracles to take home £16,300, whilst the seemingly unmovable Chris Bruce continued his fine form by lapping up £16,700 and the all important winner's trophy.
As Bruce stated on more than one occasion, this was "one of the sickest final tables I've ever seen", not just because of the flurry of bad beats on display, but also because the man all in always seemed to be the one who doubled up, whatever he held in his hand. This, along with the added distraction of strippers waltzing by the table with bum cheeks hanging out, contributed to a mammoth nine hour final table, but one which was a mere reflection of the standard of play involved and the magnificent structure that had been laid out by Trumper and his team.
In the aftermath, Brucie happily confessed "I run well", but also attributed much of his July success to his lucky card protector Moshi, a small toy that he bought in a newsagents for just 99p. "There are a hundred of these, but this chap has been lucky for me ever since the DTD 1-2-3."
As for the good people at Dusk Till Dawn, they treated us like kings and queens, and proved yet again that they are major contenders not just in the world of top class hospitality, but also in organising poker festivals. I don't recall hearing one complaint, which certainly bodes well for their upcoming deepstack event in August. I'll certainly be there, and so should you.
Good game, good game.
1st Chris Bruce -- £20,738
2nd Shahnawaz Randera -- £12,443
3rd Andrew Andreou 'Greekfish' -- £8,295
4th Richard Berridge -- £5,333
5th Marc Goodwin -- £4,148
6th Jon Omara -- £2,963
7th HWCBN -- £2,370
8th Richard Stanley -- £1,778
9th Neil Giblin -- £1,185