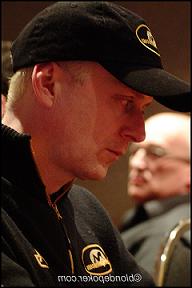 Today's tourney was the $2,000 NLH and attracted a massive field of 1912 runners. All the tourneys start at Noon and as I had not lasted to the dinner break in any of the competitions so far, I was determined to play tight not taking any risks.
I was a little under the weather, which appears to be quite common when I arrive at the WSOP, but this may have had a calming influence upon me. I hovered around average chips for most of the day. A few stars such as Ben Roberts and Allan Cunningham came and went without troubling me. However I was sat with unknown faces most of the day and just sort of ambled along without any confrontations.
Eventually Max Pescatori sat to my left with a large stack and a very aggressive style. Shortly before midnight I trapped him into doubling me up and I was coasting into the money with 20,000 chips.
However, the next time we shared the blinds, I just made up the SB with A-9. I was shocked to hear Max announce he was all-in. He actually had about 60,000 chips to my 23,000 so it was me who would be all-in if we called. However, we were only playing 600/1200 making a pot of 3600 with the running ante. So this was some overbet.
We had just made the money and I really didn't fancy him for a big hand. I was sure he would have made a smaller raise with a bigger hand. Thus giving me opportunity to come over the top with a re-raise. When I questioned him I certainly got the vibes that he was now regretting his move. So I called.
There was about 48,000 in the middle which would make me chip leader at the table, take me a long way through tomorrow and would also be a nice step towards the $850,000 first prize. He rolled over A-4 and I breathed a sigh of relief. A-9 is obviously a huge favourite over A-4.
Unfortunately, the poker gods would not be with me though. The board came 6,3,2,J with a heart breaking 5 on the river to give Max a straight. It had just gone midnight and I was out in 146th spot collecting just under $2800. It was a slight profit on the day but not really what I was looking for.
| | | | | |
| --- | --- | --- | --- | --- |
| | Tourneys | PLO Cash | NLH Cash | Today |
| Bankroll | -5,500 | +17,700 | -1500 | +10,700 |
| Tourney | +800 | | | +800 |
| 10/25 NLH Cash: | | | | |
| 25/50 PLO Cash: | | | | |
| Bankroll | -4700 | +17,700 | +1500 | +11,500 |