Monday 3rd July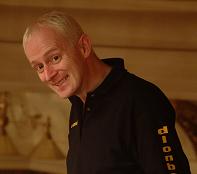 I actually took a day off! Tony Chessa &andPaul Jackson insisted on playing the Omaha Hi-Lo, so there was a shortage of drinking buddies. I tried to persuade Brian Wilson to go for a game of golf but he wasn't having it, and Marc Goodwin had flown back to the UK for the birth of his 5th child.
An hour by the pool, a couple of hours on the computer and I ended up playing a couple of satellites in the evening. I am sick.
Record for the day: Satellites = -$1,500

Tuesday 4th July
Well the main reason yesterday was a take it easy day was because today was one of the tourneys I was really targeting; the $5000 No Limit Hold'em. I was slept and rested well and took my place in a field of over 600 runners generating another first prize above $800,000.
I had a complete dearth of real hands but felt I was ducking and diving with my best short stack game. If we call the premium hands A-A, K-K, Q-Q, J-J, T-T, A-K, A-Q & A-J, unbelievably I had only picked up one A-K and a pair of pocket Kings in the six hours play before dinner. However, I had managed to see a flop with 7-4 suited from my big blind and flop top two pair. Who needs Aces when you believe in 'The Wilson'?

So about an hour after dinner our table was broke and I moved alongside Phil Helmuth (left), David Benyamine and Annie Duke. I was now short stacked with 10,000 and we were down to around 160 players. Making the average stack close to 20k. The blinds were only 300/600 though, so I wasn't under huge pressure.
I picked up 7-J of hearts on the button and watched as seat 2 limped under the gun. Two more limpers joined the party, so I couldn't refuse the chance to see a flop on the button. And a flop of J-7-2 (two spades) was a pretty good one to see. Top two pair will do for me.
Seat 2 bet out 3,500 into a pot of about 4,500 and everyone passed around to me. I just quickly checked my cards to give the impression I may be flushing, and moved all-in for a total of 8,800. Seat 2 now began to ponder and I thought perhaps he hasn't got Aces after all.
He eventually called and rolled over a pair of eights. I nearly fell of my seat, lovely jubbly. That was until the turn showed a 10 and the river a 9 - two running gutshots for an inside straight. I was out.
That's probably as bad as it can get (hopefully).
Record for the day: Tourneys = -$5,000

[Ed note: To read the rest of Dave Colclough's blog, please click here]