The WSOP is over and we have our champion for another year. Having failed to make a big splash, and having my arse handed to me in most of the cash sessions I played (damn free booze), I spent most of my time there enjoying the city, seeing the shows, meeting the people, and generally just trying to lose my money as slowly as possible. Today, I'd like to tell you about my top 10 Las Vegas casinos.
The way I see it, there are four big ones when it comes to any list of top gambling establishments in Clark County - four casinos whose sheer decadence and attention to detail puts them in a different league from any other...
(1) The Bellagio - The fountain show is simply the best thing to see in Vegas for free.

(2) Mandalay Bay - The whole place looks so spacious, you really do feel like you're a King in there.

(3) The Venetian - I was this close form taking a romantic Gondola ride with my little brother.

(4) The Wynn - Of all the places in the world with flashy lights, this is probably the most beautiful. La Reve was a spectacle, it'll be hard to forget.

None of them are going to appear in my top 10 though, that would be too easy. The following are chosen from a different set of criteria than who has spent the most on chandeliers and fancy pillars.


10 - Riviera
In all the casinos I visited, one of my missions was to pick up a $5 chip by way of a souvenir. This usually involved playing a little Pai-Gow or Blackjack till we were visited by a cocktail waitress, then hightailing it out of there, complementary drinks in hand.

This happened relatively swiftly in the Riviera, and we were around $15 up. An Asian chap, who looked as if he was going into his 5th hour of single deck blackjack exclaimed, "Hoh Joe, you win enough for dinnah?"

When I got done with the giggling, I replied "Hell Yeah, I'm the Riviera keeeed" and proceeded to pow pow everyone at the table with my imaginary six shooters. It was good craic.

This was also the place where we saw a Neil Diamond tribute act. (I know it's naff, but I like the fella.)

The lassie in the box office had to make sure that everyone buying tickets for the show, billed as a tribute act, understood that it was not the real Neil. In this city, the playground of America, idiot-proofing appears to be a must.


9 - Barbary Coast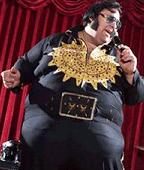 We spent a fair amount of time here in our last couple of days in town. We couldn't really afford to gamble much more, so the $2 drinks were quite a draw for us.
There are certain things you just have to do when you're in Vegas - one of them is to see an Elvis impersonator. Three afternoons a week, the Barbary lounge is graced by the not-so vocal stylings of 'Big Elvis', the world's largest Elvis impersonator.

At around 600 pounds, he's not capable of much (bless him) - the show seemed to consist of him sitting in a chair and miming. The finale was quite something though, in the last verse of 'My Way' he stood up and actually sang.

I don't know what you guys would have done, but I put my hands together and whooped out for more.


8 - Stardust

Clearly a North end of the Strip sh**ehole. The clientele, and even the cocktail waitresses, would make Tikay feel like a teenager. We were the only people the pit boss needed to ask for ID all day long.

It gets a mention in the top ten because we won a lot of money at Blackjack there.

Also, we had a right giggle as we were leaving. They had an A-1 sized poster advertising 'Chicken Diners.' We just had to get a still, with my wee bro's camcorder, of us fanning out all the notes in our wallets underneath the sign and looking goon-like.

We slowly explained (amidst some rolling on the floor) to a curious onlooker about rhyming slang, and just what the hell we were doing.

7 - Circus Circus
A little bit of home to be had in the upper level of this casino. All those games you'd expect to find at the seaside. Rolling balls into a hole to make a camel wobble along a racetrack made a welcome change from choosing whether or not to split my pairs at Pai-Gow.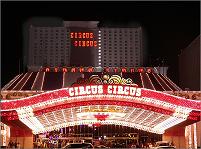 Of the many events in town, Vegas was playing host to some sort of young person's basketball tournament. Gangly teenagers the size of trees were skulking around every corner. In the funfair bitty of Circus Circus, they seemed to congregate en masse. It amused me that one of the games involved throwing a ball into a hoop.

The prize for shooting the correct amount of hoops was an oversized novelty bouncy ball type thing, of surface area similar to that of Big Elvis.

I loved the contrast in their faces, the excitement and anticipation of the young athletes, confident in their ability to get an edge, compared to a mixture of confusion and disappointment as they walked around laden down with the spherical monstrosity that was their prize. The applications, transportability and resale value of it are severely limited. When we left the casino, a graveyard of these largely useless prizes were piled up high against the door.

Thankfully I was rather crap at the rolling the ball in the hole game, and my haul for the evening was just a handy, pocket sized, teddy.
to be continued...