[Ed Note: To read Part I, please click
here
]
6 - The Orleans
Base camp for us, because it was relatively cheap to stay, largely due to it's location off the strip. Not too much of a problem, the shuttle service to it's conviently located sister casinos, the Gold Coast (next to the Rio) and the Barbary coast (slap bang in the middle of the strip) proved a godsend for keeping the taxi bill under control.
I spent large amounts of time in the poker room, a decently run friendly place. Also at the Pai-Gow tables, where a push is a win when the beer is free.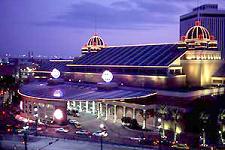 My favourite bit about this place was who we shared the hotel with in the second week. The Miss America pageant was in town, and the Orleans was where the contestants were holed up. So proud are these girlies of being appointed the Queen of whatever state they hail from, they wear their sashes everywhere they go (yes, even by the pool).

We spent one afternoon seeing how many of them would let us get our photo taken with them. My camera was broken, but this trivial setback didn't stop us having our fun. Beauty Queens are friendly folks on the most part, so my camera is full of imaginary pics. And to paraphrase Beavis and Butthead, my shoulder got some.


5 - New York, New York
I was convinced by some fellow blondites (damn you Mel) to try out the roller coaster here. The 'Manhattan Express' was kind of a pointless waste of $12 from my point of view. I bloomin' hate the things. All I do is queue up, pay my money, close my eyes, hold on tight, and go to my happy place for a couple of minutes. I'm assured by those who actually enjoy such pursuits that it was worth it though.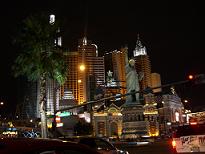 The 'Coyote Ugly' bar is a good place to visit. A little too busy for my tastes, but good fun. What did appeal to my palate was the New York style pizza parlour. Mmmmm, you just can't get that over here.
Other plus points, the Statue of Liberty adopting a Marilyn Monroe, 7 Year Itch heat vent kinda pose. I also like the fact that turning up for work sober didn't appear to be a prerequisite in this casino - much better craic can be had at the tables when the lady dealer is quite clearly 'on the sauce.'
4 - The New Frontier
I love the Wild West pub here. Put on Cowboy hats, pretend you know how to line dance, ride the mechanical bull. Just generally kick it in the sawdust.

A lovely evening made all the more enjoyable by a special bikini contest at midnight, where the girls ride the aforementioned mechanical bull on a somewhat slower setting. Before that night, I'd never been able to holler 'Yeeee-Haaaw' in context before. One more thing to cross off my list of things to do before I die.
to be continued...