3 - Luxor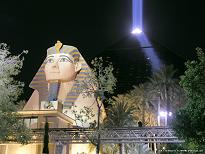 I love this place. Loads of resort casinos have a gimmick, but the Luxor plays it the way it should. That is, the bigger the better. Loads of oversized pharaoh statues and sphinx type things for me to gawp at.

They can be forgiven for making things a little on the large size, after all, wasn't the ethos of ancient Egypt "Hey, we got the rocks, might as well stack 'em high"?

The only thing more impressive than the entrance is the building itself - a sleek back glass pyramid, the tip of which emits a beam of light straight up into the air. It is so powerful that it can be seen from space. Apparently, I think they just make that stuff up, like those Chinamen.

My wee brother and co-Vegas conspirator won a poker tournament here. I tried to point out that the structure of the game made a crap shoot look like a game of skill. It wasn't going to spoil his enjoyment though, he wouldn't shut up about it for a while (the bassa knocked me out). Rightfully so, a win's a win and he has every right to be chuffed.


2 - Las Vegas Hilton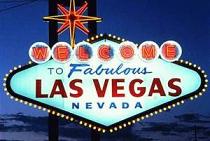 Winner of thetank's 2006 best pun in a Vegas prize. I'm not a big Trekkie, but we had a brief look at the 'Star Trek Experience' at the Hilton. I was tickled pink to see that the gift shop sold bottles of 'Deep Space Wine'. It won the prize hands down, and is nae too shabby on the nose.
The Hilton sports' book is one of the best in town. We chose this as our venue to punt on a baseball game. Nine games were about to start, we chose one at random, and bet heavily on the favourite. As eight games began on eight different big screens, it soon became apparent that our game was the only one not being shown. Not to worry, we had a betting slip and free beer from the cocktail waitress.

Round about the sixth innings of the games being shown, an announcement came over the tannoy: "Free Poker Lessons are about to begin in the Poker Room, anyone interested in free poker lessons, please make your way to the Poker Room."

I couldn't resist. Six other students and I listened intently as some disgruntled casino employee rattled off the mechanics of limit poker (with particular emphasis on the importance of tipping). After she answered my carefully worded questions ("What's that dealer button for again?") and a brief practice round, we were asked if we'd like to play a small game just amongst us beginners. (We wouldn't want to play against the experienced players now, would we?)
The buy-in was $30, I was somehow persuaded to put my money on the table and join in. Half an hour later and I'm definitely going to Hell, but $150 richer.

So what's all this nonsense about karma? After some shameless poker hustling, I emerge from the Poker Room and discover that my ball team has romped home. Definitely a successful afternoon at the Hilton, we retired to our Orleans' hotel room to quaff some of the Deep Space Wine in celebration. Sadly, Miss Arizona politely declined to join us.
1 - Rio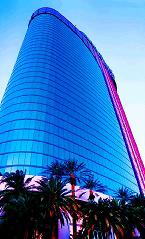 Top place this, and just as well. There was something of interest going on in the convention centre, so a good deal of time was to be spent within its confines.

A carnival atmosphere exists on the gaming floor. Women in pointlessly located platforms dance around as rows of mugs pull slot handles. I was even persuaded by the ambiance to pull a few myself (sadly, I'm talking about the slots, not the dancing girls).

I'm not going to say too much about my Series. Bad beat stories carry a price of 50p, and I don't want this article costing me a tenner. Suffice is to say, I don't mind drawing a blank in almost every single table satellite I enter, I just hate going deep in most of them first. The sense of loss is somehow greater.

I was ready to kick something, and/or tilt off my spending money after I got completely shat on by the deck one night. I will say a big thanks to Jen though. She talked to me in an understanding way for a wee whiley. An inane conversation about bizarre pisch was exactly what I needed to bring me back down to earth, cheers again, Djinn.

The Tilted Kilt was a good pub. As its name suggests, it took on a bit of a Scottish theme. Not that there was anything different with the place from every other licensed venue in Vegas. The mini-skirts of the waitresses were made from tartan with the odd pleat and there was a Loch Ness monster, and Braveheart poster on the wall. If it wasn't for the good service, I could have sworn I was back home.

Nice to meet some random yanks in a boozer who were plying their trade at the poker. I tried to say hello to as many as possible after I'd busted out of the satellites. The aim was to maximize my chances of being able to point at the World Champion and say, "I've met him." Sadly I didn't strike Gold, still, it's nice to meet an interesting cross section of the poker community. (They're all nutters by the way.)

The best thing about the Rio for me, was definitely the 'Voodoo Lounge' nightclub. When we went through the entrance on the 2nd floor, I had no idea that the nightclub itself was situated at the top of the Hotel Tower.

The lift has few buttons on it, one particularly inviting one says simply, '53'. You press it and are whisked heavenwards at a pace that only serves to heighten your adrenaline rush. The window looking outward onto the Vegas night gives you some idea as to the speed of your ascent. As if the sudden realisation that you're going to the roooooof wasn't enough to get your juices flowing.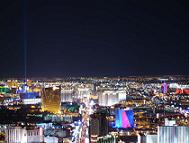 My main beef with most nightclubs is a lack of space where you can hear yourself think. Not so with the Voodoo Lounge, there is a fantastic open air lounge, quite literally the roof, where one can chill and reflect to your heart's content.

The view of the Strip it provides is quite simply the best there is. The Stratosphere Tower is ok, indeed it is almost twice as high, but the location isn't as good for enjoying the main part of Las Vegas Boulevard from on high. The Rio is situated to the West of the strip, it allows you to see a broader perspective of the city than elsewhere.

We went back the next night to watch the sun set over the city. It was (for lack of a better word) magical. If trips to Vegas were judged solely on the amount of decent craic and the memories, I think mine was extremely profitable.
Thomas 'thetank' Stott