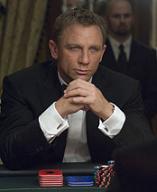 Casino Royale, which goes on general release on the 16th November, brings a new Bond to our screens, Daniel Craig, and yes you guessed it – he is blonde and he plays poker! It is the 21st James Bond adventure in the most successful franchise in film history and is based on Ian Fleming's first novel to feature the ultimate secret agent, originally published in 1953.
The movie traces the early career of James Bond. His first '007' mission leads him to Le Chiffre (played by Mads Mikkelsen), banker to the world's terrorists. In order to stop him, and bring down the terrorist network, Bond must beat Le Chiffre in a high-stakes poker game at Casino Royale. Bond is initially annoyed when a beautiful Treasury official, Vesper Lynd (Eva Green), is assigned to deliver his stake for the game and watch over the government's money. But, as Bond and Vesper survive a series of lethal attacks by Le Chiffre and his henchmen, a mutual attraction develops leading them both into further danger and events that will shape Bond's life forever.
A major update on the Fleming novel is the game Bond and Le Chiffre play at Casino Royale. In the book, the game is Chemin de Fer, a variation of Baccarat. For the film, the game was changed to Texas Hold 'em poker. As producer Michael G. Wilson explained, "Although Bond has traditionally played Chemin de Fer, that game is no longer popular and there are very few people who understand it, whereas poker is now recognized throughout the world, with poker tournaments on television and online gaming at an all-time high. Poker requires bluff and strategy, which has more dramatic possibilities on screen than 'Chimie.'"
Wilson enjoys playing poker himself and describes himself as "A recovering poker addict." In conjunction with the scriptwriters and Martin Campbell, he designed and supervised the games played at the Casino Royale tournament.
The film's marathon card tournament turned out to be even harder to film than some of Casino Royale's spectacular action set pieces, says Campbell. "This is the most difficult thing I've ever had to shoot – ten players round a table, playing Texas Hold 'em, all looking at their cards and each other. Maintaining the tension and the continuity was a nightmare. In fact, as an exercise it would be a very good test for film students to try. Luckily, producer Michael G. Wilson is a genius at poker and very good at numbers. I couldn't have done it without him."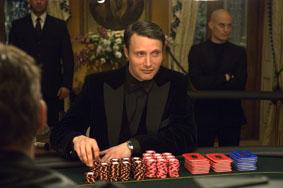 Le Chiffre's poker game is based in Montenegro for international high rollers with a $10 million buy-in. The actors took poker lessons and rehearsed the games before filming began in order to keep the performances fresh as the hands were played and replayed over several days.
"Most of us could already play poker and, as well as rehearsing the tournament, we played poker for fun," says Mikkelsen (Le Chiffre). "In fact we often ended up playing in the corridors of [Prague's] Barrandov Studios between scenes."
Playing cards on camera for three weeks apparently only whet the actors' appetite for the game. One night Mikkelsen and some of his fellow actors ventured out to a casino in Prague – where they promptly ran into Wilson.
Like most gamblers, Le Chiffre has a tell — an involuntary tic that reveals how he feels about his hand, explains Mikkelsen. "He has a scar on his eye, and the vein starts to pump when his heart rate increases, so he casually presses his finger against it to stop, but Bond notices. It has to be as subtle as possible, of course, or he wouldn't win many poker games. But Le Chiffre manages to turn this flaw to his advantage."
Girls, cars, James Bond and of course poker – sounds like this could be the best Bond movie ever for blondites!

Andy Langley
LPS Creative Media