| | |
| --- | --- |
| Game Type: | No Limit |
| Buy-in: | $5,000 |
| Entries: | 313 |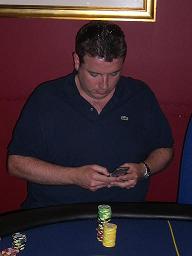 As soon as I heard about Betfair's Asian Open I was determined to get out to Singapore and experience it first hand. I'd been as far as Thailand on previous holidays and Singapore, and the Mandarin Hotel in which the country's first ever poker tournament was to be held, looked every bit as idyllic.
A few days of sight seeing with the boys, pictures of which can be accessed on a special over 18s only version of this blog, had us all in fine fettle going into day one. My record in these one-hour blind, 10,000 chip events is pretty good, so I employed my usual tactic of waiting for premium hands, while limping in position with small pairs and connecting cards.
I didn't seem to be connecting with much, and while Colchester Kev was enjoying the benefits of sitting two to the left of obviously the worst player on the table, taking the majority of his 10,000 very early, I seemed to be in decline on what seemed, our friend apart, a pretty solid table - I later found out five of our table made the money and two the final, so my early assumptions looked about right.
We had the usual candidates, aggressive Scandi to my left, local lad who looked like it was his first live game (and let's face it, as they only legalised poker in Singapore that week it probably was), a couple of Brits, one obviously an online qualifier, the other who likes his home games, and my favourite, an Austrian character in seat seven who looked like Tony Angelino, the fella in Only Fools and Horses who sang 'Cwyin!'
After doing a couple of thousand raising with K-K and Q-Q only to see the inevitable Ace fall on the flop and my opponent bet at it, I was not feeling great at 6,000 chips with blinds at 200/400.
We'd lost the table idiot but everyone else was playing decent, solid poker, so it was time to shake things up a bit. I'm dealt 7-7 utg and flat call. Scandi beside me raises to 1,300, it's called by the local kid and passed back round to me. Now with over 3,000 in the pot and having only 5,500 left I decide it's time to move.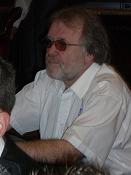 I remember having a conversation with Mickey Wernick (right) in Vegas this summer, when he told me sometimes if you play from early position like you've got aces, you'll even convince yourself you have them if you can play them well enough.
I re-raise, to 4,000, leaving myself not enough to pass. The Scandi knows this, and after a minute or so of gesturing and sighing, glancing intermittently to the local lad also in the pot, he passes. The local does the same and squeeze play successfully accomplished, I'm back approaching 10,000.
As the next hand is dealt, the Scandi says to me, "It's lucky you didn't raise first up." I ask why. "Because I would have had to re-raise with my hand and all the chips would have gone in."
"That couldn't have happened," I tell him, "as my hand wasn't good enough to raise." He looks at me quizzically. "I couldn't raise with that hand. I could re-raise, but not raise with that," and I put the iPod back on.
He is now visibly seething, and wants to fight someone. Step forward Tony Angelino.
Scandi raises to 1,300 from the cut-off, Tony re-raises to around 3,000 and our tilty friend instantly lumps his whole 9,000 in.
Tony thinks for all of five seconds before calling with his mighty A9, but it looks inspired as Scandi boy has A7 and Tony rakes in a big pot to become table captain. No Cryin for him… at least not yet.
A few hands later I get involved in a big hand with Tony that ultimately starts me off on the journey to the final table. This is the only time I'm all-in before I make the money.
Tony raises my blind and I have 7-8 of diamonds, a hand I'll call a raise in the blind with every day of the week. The flop looks perfect - T-6 of diamonds with an off-suit deuce. It's so good that I decide the play is to check-raise – I've got a monster draw, and I know Tony will put in his usual continuation bet, but at the same time I only have 8 high and I hope the check-raise will win me the pot.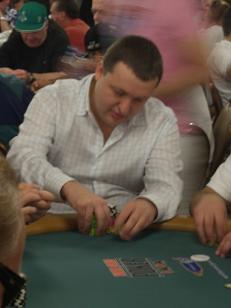 I check, Tony bets 1,500, and I raise it to 5,000, about half my stack. In an instant he's all-in (again) and it leaves me with a decision. He's acted so quickly I immediately have to put him on an overpair, but with the size of my draw, even though I don't really want to call all of my chips without a made hand, it's an easy call.
Tony's chuffed to see me drawing, he had T9, including the 9 of diamonds, so my straight flush is already dead. A Ten on the Turn has me ready to go but a lovely diamond on the river doubles me and I finally feel like I'm in the game.
The table breaks pretty soon after that and I'm sent on a wild goose chase looking for Table Nine. The reason I can't find it is it's because it's the TV table… and there's a lovely vacancy in between Mel Judah and Tony G, both nicely chipped up.
Having played a lot with Tony in the limit tournament the night before (three bad beats in four hands andout just before the final table, grrrr) it's a pleasant enough place to be, but not when you're trying to get some chips.
However, these two have obviously got the rest of their table playing the way they want them, and when a guy makes what I call a 'pocket fives' raise utg, raising from 1,200 to 6,000, I think my A-K is at least good for a race and may well be dominating. I've got 20,000, I shove the lot in, and he passes in a flash.
A few hands later the same guy raises my blind, I have Aces and decide to make the same move, same result, and I'm up over 30,000 without showing a card.
I don't play a hand for 20 minutes, then I get in another hand with the same guy. This time I make the raise with J-J, to about 4,000, he moves all in for another 12,000. He doesn't look confident to me, and I'm in that position I like to risk my chips with, where the worst case scenario (not the best, as some bad players will find themselves) is that I'm racing… hopefully I'll be dominating. He turns over A-Q and I win the race. To be fair to the fella he found me just before the final a few days later, told me I tilted him with the re-raising and he was glad his chips were not wasted and wished me luck.
With that another table broke and having plodded around the 6,000 mark just an hour or so earlier, I was now among the chip leaders with over 50,000.
My new table was full of short stacks, and while for a plodder like myself having chips is not the norm, I certainly know how to use them, and I started pushing people around. It's very easy to find the players who don't want to play for all their chips… they'll play Aces or Kings but if you re-raise them and they've got a hand even as strong as queens, they'll convince themselves that you have A-K and they don't want to race for their tournament.
Having got over 60,000, I make my first miss-step, raising from the button with A-9, hitting second pair and not being able to take the big blind off his top pair, eventually doubling him up. However, as day one comes to a close, with 56 of the 313 starters remaining, I'm around average chips with 45,000.
With only 20 needed to hit the exit door before cashing, it was time for to go back down the gears at the start of day two. It may not be everyone's choice of game, and while, as all good poker players should, I don't play for the money, just the glory and the honour of the game, I find it prudent to leave the gambling until we're in the money.
Sure enough, the bubble comes and goes ridiculously quickly, with three players going out at the same time on two tables to take us all into the money, and now it's time to play again. Having played so few hands, I know I can get away with quite a bit now, and hovering around the 40,000 mark, I still have enough to make people pass to a re-raise.
Sure enough, playing 1,000 and 2,000 blinds, A-Q in the big blind is good enough to lump the lot in after a button raise to 8,000, and after the predictable Hollywooding, the cookie jar is snapped closed on the thief.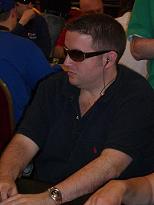 My friend from Day 1, Tony Angelino, is sat one to my right, and having seen some of the monsters he was raising with on Day 1, my A-Q (again) on the small blind looks good enough to lump 'em in again (not an easy task when you haven't yet stacked 'em from the last hand). Tony makes a call for most of his chips with K-Q and my hand stands up and I'm back above average.
I get moved to Tony G's table, and it soon becomes evident he's the reason the players have been dropping like flies. He has a massive chip lead, has obviously been a one-man wrecking crew, and, unusually for him, wants to tell the whole world about it.
As I sit down, he welcomes me to the table. "They should put a trapdoor under that seat, don't get too comfortable. I've knocked out every player in that seat today." I smile at him and thank him for the warm welcome.
to be continued...