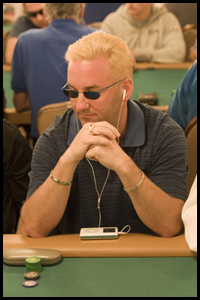 Brian Wilson is not a natural blond. Having played poker for just four years, he has brought to Vegas a dye job to rival, if not surpass Tikay's, taken away a WSOP bracelet ($5000 PLHE), and left behind a lot of dismayed pros who were not prepared for the Florida resident's whirlwind mix of aggression, unconventional hand selection and table talk.
If you have seen him at the World Series this year, you will also have heard him. He fits into a unique category – one of those Americans totally unfazed by any opposition, but while he can dish out the beats, he can also take them; aware that that is the way the game goes. Just this week at the WPT event at the Aviation Club de France while racing pocket tens with his KQ, he banged the table when he hit the K on the turn, and then just laughed when his opponent did the same at the river 10. It's rare that the extroverts of poker are ever good-natured when they're not winning.
How this college hockey and black-jack playing, part-time real estate developer got in with blondepoker is a strange story, involving his online qualification for a tournament in Estonia, his meeting of a certain Dave Colclough and the subsequent email hassling of him for advice on his game. Brian said of being sat next to Dave that first time in Estonia, "I didn't know who the hell he was," but he also said that El Blondie gave him credit, if not for knowing what he was doing, for "having balls."
Out of this unlikely friendship came subsequent meetings in the Bahamas and, as one might expect, Las Vegas. Prior to all of this, Brian had played regularly "with the same ten guys" for years at a car salesman's home game in Florida, a state where gambling is only legal in Indian casinos (the tournament structure there until recently left more than a little to be desired: apparently standard was the omission of adding rebuys to the prize pool, and the tournaments being brought to abrupt conclusion with a "last 30 hands" announcement).
After rediscovering poker at a bigger level, there followed a sharp learning curve for Brian, who says he still has the emails he exchanged with Dave as he 'bothered' him for lessons, even offering a percentage of himself in return. This was refused, but it looks as though Brian appears to have graduated, starting with early online streaks of $50 - $60,000 playing sit'n'gos and then, having spent hours watching and "playing, playing, playing," beginning to see impressive results. In three Palms comps in Vegas, he won one and came second in the other two.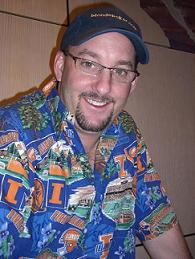 Brian's WSOP final table debuts on TV at the beginning of September, which should make interesting watching (I'm thinking of getting cable). One typifying story from this $5000 PLHE event involves a somewhat obnoxious player who wound up Mr. Wilson, continuously referring to him as "Son." Brian announced to the whole table, "I am going to bust him," and then got it all-in against him with KQ against AK. It looked momentarily bleak as the K came up, but when the Q followed it there was only one thing for him to say as he doubled up: "Who's your daddy now?"
Brian sums up his competitive attitude with a comparison to his college hockey days, "Everyone hated to play against me but they all wanted me on their team." He is at this very moment headed for London (his first trip) to compete in the CelebPoker event and the Vic £5000 No-limit tournament, among others. He has been seen recently sporting a blondepoker-collared shirt and hat, so it looks like he's on our team. Watch out UK.