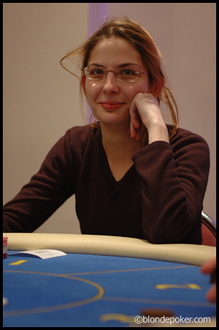 The new LCI Casino at the Empire couldn't be much more centrally located in London if it were balanced on the top of Nelson's Column. You may have noticed posters on the tube warning the city that, "a little bit of Vegas" had landed within walking distance of the theatres, bars, cinemas and clubs of the West End, similarly in the multitude of free papers. I hadn't, but I was reminded of the opening of the new card room by supervisor Paul Whiting, last seen in the pleasant surroundings of the Rendezvous in Brighton. Having had the new club in mind only because of the upcoming first World Series of Poker Europe event, I was suddenly curious to take a peek at the poker venue, and what had become of the large property as a whole. I was also, incidentally, relieved to find that the Empire Cinema, my favourite atmospheric old-school big screen movie palace, still exists, but its thunder has been somewhat stolen by its new neighbour this week.

Feeling adventurous, I showed up with a certain James Dempsey to give their £100 rebuy Tuesday comp a shot, and eat as much food as possible in two restaurants, under the pretext of 'research.' At one of two entrances we were checked for membership, given the once-over by some people outside to make sure we weren't committing the one dress-code sin which seems to have been adopted (much to my chagrin) as the cardinal one – trainer-wearing, and then ushered through into the casino proper. Lots of shiny chandelier-type hangings, and a water-feature later (I am a sucker for jumping fountains) we were in the brand new gaming area, where everything is a soothing if unexpected shade of brown and pristine roulette wheels and shining bars are reached via a glowing staircase (or lifts – it looks like disabled access is possible, but I never actually went in any elevators so I'm not 100% sure where they went).

The glowing staircase, like that of the casino in Helsinki I like so much, won me over completely, and by the time I found a third bar and a 'chill-out area' complete with sofas and dim lighting, I had the surroundings rated highly as both comfortable and spanking new. How it will feel after tens of thousands of punters have traipsed their smart-casual shoes through the gaming floor in probably a short space of time, I don't know, but it's pretty nice now. It doesn't compare to the Vegas casinos' sheer sprawling size and sensory overload, but the lack of slot machine "ding-ding-ding-ding," is a blessing, and so is being able to find where you're going fast, while not feeling crammed in to a too-small space. We were of course heading for the card room, where some people from Sky were filming visitors' reactions to the casino and the prospect of the WSOPE.

To be honest, I remember thinking, "Where's the rest of it?" looking at the pristine card room. 32 people showed up for the tournament, taking their comfortable seats as a £50 self-dealt cash game kicked off in the corner. Three times as many could have been catered for, but when it comes to the WSOPE, it's not a surprise that runners are going to be split across three venues, playing simultaneously, with the final tables being consolidated in the Empire - an unorthodox plan, certainly. I have been wondering about a few things – are the numbers starting in each venue going to be strictly equal (this would prevent any kind of last minute entry in the interests of a fair draw)? If one field drastically consumes itself, would people be taxied over to balance tables or would one venue 'break' first? Is one Tournament Director going to have supreme decision-making authority over all three venues, and how will that work? Allowing that even a £10,000 NLHE event could these days be supported by the demand for poker which is seeing the EPT rise to €8,000 a pop and events like the Monte Carlo grand final sell out, is the UK really ready to host a £2,500 limit H.O.R.S.E. event?

These questions are now on hold until after Vegas season and the established, dollar WSOP. Our tournament back in London played fast and loose (our small field generated over £10k in prize money), with several faces I'd seen many times (Willie Tann, Keir Fitzgibbon etc.) sat alongside many who played like they were double parked through the rebuy stage and presumably through the rest of it (I ran Kings into AK pretty sharpish). So while Flushy played on until eventually losing a race and running into Kings three-handed (they did what they were supposed to and held up that time – I refused to agree that James ran so bad in that instance) I had a second dinner with Tantrum in the Chinese restaurant. The ice-cream area where they mash ice-cream together with toppings of interest on a frozen plate before serving you the resulting caramel-flake-gummy-choc-chip concoction will have to wait for another day.

Still drinking watermelon cocktails at 4am, we were left with the feeling that a late bar in a casino which still has that new car smell was a good thing. Richard and Claire aka TightEnd and Claw seemed to agree, although not pushing its late-nite credentials as far as we did. Emerging in full daylight to an orgy of night buses, and very little else, we pondered on the fake 24hour credentials of most of London, and considered returning on a Thurs-Sat night, when the balcony bar over Leicester Square would enable some swanning over the crowds like on a film premiere.