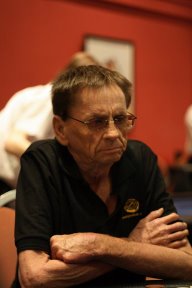 Since many of us came to know Brendan following the launch of blonde Poker in early 2005, we have come to regard him with huge respect and affection not just for his poker playing ability but notably for his fortitude in overcoming severe health problems.
Brendan takes his screen name 'ericstoner' from the Steve McQueen character in 'The Cincinnati Kid' and has been involved on the poker scene since the early 1990s. First live as a player at the Vic in London and in recent years as a frequent presence in online tournaments. His major successes were his win in the Stars Sunday night 'biggie' on Easter Sunday 2003 and his runner's up spot in the 2007 APAT Irish Amateur Poker Championship, where he was roared on by a phalanx of rail-birding blondes. His poker winnings have allowed him to thoroughly indulge his main hobby of horse-racing via purchase of a racehorse and paying the heavy expenses to keep it in training.
However, Brendan is more than a mere poker player and instead represents to many of us a triumph of human spirit in the face of adversity. Consider the following: Brendan has been on Dialysis three times a week for the last 28 years and underwent five failed transplants between 1978-86. At the end of this period his life was saved by a policeman donating forty units of blood in Intensive care one Saturday morning. Tragically too Brendan lost his wife of 19 years at the early age of 38 several years ago. Once again Brendan faced a spell in Intensive care earlier this year and yet recovered, having to be wheelchair bound for the past few years, to walk with only minimal aid at the APAT Welsh Event in Cardiff in the same place where he is now presented with this award.
Brendan is one of life's gentlemen. Ever friendly, ever upbeat and a friend to many of us.