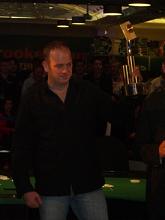 Before I had time to get used to my own bed, it was back on the road to Dublin, land of Guinness, leprechauns and maniacal taxi drivers, one of which forced me into a long silence after honking his horn like a mentalist, shouting racist obscenities at other road users and pointing out local 'broads' passing by. Although I would have welcomed the latter, I feel it deserved a tad more subtlety than glaring at them unremittingly and exclaiming the phrase 'pussy galore'.
Back at the Burlington Hotel, Jen and I had a tournament to attend to, and one which crept over the 706 mark to become Europe's biggest event, as well as the oldest. And although I had a chance in the media comp to become one of those 708, it didn't quite come into fruition, finishing a painful 4th of 66 with first getting a Main Event seat (of which were rumoured to be selling for up to €6,000) and €500 for 2nd.
The Main Event was eventually won by local hero Marty Smyth (although Nick Power and Bryan 'The Fox' O'Keeffe were the true fan favourites) with the seemingly invincible Roland de Wolfe in second, fresh off making his rather generous Final Day odds appear somewhat wayward.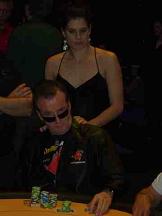 "Fuck the poker," I hear you cry. "we want gossip." Well, I wouldn't say there was anything as tabloid worthy as a Colclough split or an Ivey Hustle on show, but there are a few amusing anecdotes to be told, one which involved the enigmatic Devilfish taking full advantage of not only the bar, but also the grand piano in the lobby. Accompanied by an Eastern European girl (nice looking lass – assuming they're courting, he don't half do well for a veteran), Dave treated the rest of the room to a bout of Desperado, Hey Jude, Let It Be and my personal favourite, Great Balls Of Fire, although I do fear Mr Lee's grave may have been rumbling just slightly.
Although it's mighty surreal to be serenaded by an intoxicated UK poker legend that I used to idolise on Late Night Poker as I was falling in love with the game, it's similarly bizarre to be enduring a bout of bingo with one of his fellow veterans, Mad Marty Wilson. After years of watching the Midlander entertain us on the small screen, I was treated to a live show in the form of 'Win With Wilson', a simple game that involved Marty shouting out cards until you'd filled your personal set of cards up, the winner being obliged to shout out 'Win With Wilson!' instead of the more familiar "House!"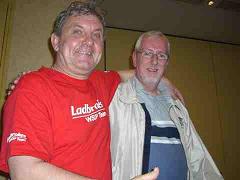 Well, to cut a long story short, I 'lost with Wilson', but was surprisingly entertained by a man who can sometimes be a burden when you're knackered, but a ray of light when you're not. One of my favourite moments was when he gave someone a bottle of wine just for answering "Yes" to the question "You know what a koala bear is, don't you?" Anyhow, if you want to see him in action whilst scaring a certain beagle with one of many card tricks, then click the following link: http://www.youtube.com/watch?v=_F68x7i_KMg
In terms of poker, I was undoubtedly amused by two infamous incidents, the first involving Irish Poker Championships' casher, Trevor McGoona, who petulantly smashed his chip across the table after folding to a weaker hand. A day later, Nick Power made me giggle by announcing all-in without even having any cards in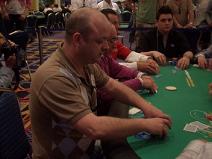 front of him. His opponent folded and Nicky (below) took the pot, but his cards had already been mistakenly swiped away by the dealer without the Irishman realising. Is this the first time someone's taken down a pot without possessing any cards?
Apart from the rumour that the recently rekindled Poker Bastard is a joint effort from Alan Engel (sp?) and another chap I can't recall the name of, that's about it from Dublin. I'm currently writing in Vegas covering the Bellagio WPT final so, considering the location, famous names lurking about, and amount of money at stake, I should have some worthy news to report come next blog entry. Keep an eye out.
Ps. Update from a previous entry: it was actually Ritchie Menlo, westmenlo and premier (please excuse any poor spellings) who spent a night in a Monte Carlo slammer – a reliable source informing me that they threw stuff off a balcony and even ran the risk of 'tampering' with a vehicle on the road. Eek, that could have been expensive.