Monday 26th June

I am booked on the Virgin VS43 direct flight from Gatwick direct to Vegas along with Marc Goodwin (right). Unfortunately, Mr Cool has the bright idea of checking in online, which includes having to type your password number in. Having driven from Birmingham to Gatwick at 5am, I now realise how dangerous it is to ever take my passport out of my laptop bag. I just don't do it. And now I know why I don't do it…
I am in Gatwick South Terminal Area A and my passport is in Birmingham B12 sat on my computer desk next to the printer.
This is a bit of a déjà vu attack to say the least. Last year's annual pilgrimage also started with me missing my flight. Let's hope it's not a sign of things to come. Fortunately, there is a premier economy seat available for Tuesday and it only costs £25 to change my ticket... So I wave goodbye to Mr Cool and trot back to the car for another 4 hours of driving. Maybe there is the occasional downside to this life.
Tuesday 27th June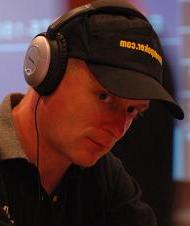 I actually managed to make the flight! Yippee. Barry Hearn, his son and about 20 Leyton Orient footie players are also booked on the same flight. I also bump into Ed Giddens, Ivan Donaughy, Ian Woodley, Richard Gardner-Brown and Rocket Ronnie Debollox, all on board for the annual pilgrimage as well. I guess there is going to be a shedload of Brits at the Series.
Having arrived in town, I am staying in Hooters of all places just for a few days before we move into our Parisian Palace. Apparently, my very own muppet Tony Chessa has sorted some 'comped' rooms out for us all.
In the evening we all have a 'meet the TV Production crew meal' over at the Rio. Mr Cool, The Muppet, myself and Paul Jackson will be having a documentary done on the highs and lows of 'B' List players trying to survive at the series. Sounds good. Could be a little embarrassing though.
Wednesday 28th June
Okay, so here I am, the Annual Pilgrimage has officially started. I missed yesterday's £1500 NLH event but will be playing today's £1500 PLH event. Let's get this year off to a flyer…