Two Americans face each other heads-up - California's Jamie Gold and Connecticut's Paul Wasicka. The former is sitting on a massive chip lead, whilst the latter lags behind with just 11,225,000, a near 68 million deficit. But this is poker, this is the grandest stage of them all, anything can happen, can't it?
Well yes, it can, but not this time. After less than 30 minutes of heads-up play, Paul Wasicka finds Pocket Tens, but merely smooth calls Jamie Gold's preflop raise. Wasicka bets 1.5 million with his second pair on a flop of Qc 8h 5h. Gold moves all-in and Wasicka calls. To the dismay of Wasicka, his opponent reveals Q-9 off, and with an Ace on the Turn and a Four on the River, it's all over. We have a new champion, and he's 12 million dollars the richer!
Hailing from Malibu, California, Jamie Gold works as a Los Angles television producer. A former, yet highly successful talent agent, this ex Bicycle Casino employee isn't a poker novice who 'just struck lucky'. Far from it in fact, as Gold has spent the last 14 months playing live poker virtually non-stop. And although he has no other major titles to brag of (he did however win over 50k in a 2005 Stars & Stripes Event), he has been spotted on many a final table leading up to this year's World Series.
Rumour also has it that the legendary 10 time bracelet winner, Johnny Chan, has been teaching Gold the odd trick or two. Along with 2003 champ, Chris Moneymaker, Chan has been working with Gold on an upcoming TV show - a very handy accomplice indeed for one looking to make it big in the poker world.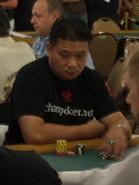 But, as we all know, having Johnny Chan whisper tips and hints into your ear is nowhere near enough to defeat a gigantic field of 8873 fierce poker fanatics, each one desperate to get their hands on that highly coveted gold bracelet, not to mention the small case of 12 million bucks. In fact, whenever anyone rises triumphant in a four-figured field, the green-eyed monsters in the poker industry automatically use the word 'luck' in every sentence. Whilst the luck factor is clearly a major part of winning the World Series of Poker, one must also take note of how Jamie Gold commanded and dominated this year's Event, a domination which overflowed into the last Day as he disposed of an incredible 7 out of 8 final table opponents.
As the final table of 9 braced themselves for an exciting day of poker, each one knew that they were already bona fide millionaires – a sweet consolation for any potential bad beat.
As Toyota's 2005 Player of the Series, a four-time bracelet winner, and a highly respected poker pro, the reservered, but oh so deadly Allen Cunningham was being tipped by many to rise triumphant, even when met with Gold's foreboding chip lead.
Heading into the final day, the chip counts were as follows:
Jamie Gold - 26,650,000
Allen Cunningham - 17,770,000
Richard Lee - 11,820,000
Erik Friberg - 9,605,000
Paul Wasicka - 7,970,000
Doug Kim - 6,770,000
Rhett Butler - 4,815,000
Michael Binger - 3,140,000
Dan Nassif - 2,600,000
With blinds at 80,000 and 160,000, a running ante of 20,000 and a 2 hour clock, there was still plenty of play to be had, and, as had been constant throughout the whole competition, this had little need in becoming a crapshoot.
And after just 15 minutes, Gold took down his first victim in smallest stack, Dan Nassif, who was forced to settle for the poltry sum of $1,566,858. Gold had limp-called Nassif's preflop raise, only to check in the dark on the 5-3-2 flop. Nassif moved all-in and was met with an instant call from Gold who flipped over a set of twos. No four came and the pot remained unchopped, leaving Nasif to exit stage left.
Then, at around 3.30pm, Gold increased his chip lead to a rather intimidating 34,500,000 when his T-9 off outkicked Allen Cunningham's trips on a 9-9-8-5-A board.
Then, with Eric Friberg (J-J vs Gold's Q-Q), Doug Kim (9-9 vs Wasicka's Q-Q on a 4-4-3 flop) and Richard Lee (a J-J preflop raising war against Gold's Queens) took 8th to 6th respectively, we were left with our final five:
Jamie Gold - 51,175,000
Paul Wasicka - 14,560,000
Allen Cunningham - 13,680,000
Michael Binger - 7,440,000
Rhett Butler - 3,235,000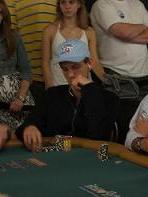 Inevitably, although not before an A-T vs 8-8 double through courtesy of Wasicka, Rhett Butler was the 5th place finisher when both Cunningham and Gold called his all-in swan song, the latter finally taking the pot with K-J on a Jack high board. He didn't quite get his hands on the bracelet but, frankly, I don't think Butler gave a damn as he was over 3 million dollars richer than he was a week ago.
Four left and the fight was on. Binger and Cunningham were now the shorter stacks, and it was the established pro who eventually took that 4th spot, unsuprisingly, taken out by Jamie Gold! Pocket Tens versus Gold's K-J suited - a King on the flop and that's all she wrote for Cunningham.
Just 3 players remaining, and it looked as though Gold was going to well and truly clean up.
Jamie Gold -- 57,000,000
Paul Wasicka -- 16,500,000
Michael Binger -- 14,000,000
Although Binger and Wasicka were in touching distance of one another, it was Binger who would fall next when his A-T on a Ten high flop was outdrawn by Gold's open ended straight draw (4-3) – a seven on the Turn sealing Binger's fate.
And then onto the aforementioned scene-setter that commenced this article. Paul Wasicka, who had started the day with under 8 million, had worked wonders to force himself into second place and was rewarded with $6,102,499 in prize money.
With two previous cashes in this WSOP, not to mention a $146,460 scoop in the World Poker Tour's Fourth Annual Five-Star World Poker Classic, Paul Wasicka was the man with the track record, but even Superman would have struggled to overcome such a huge chip disadvantage, and Wasicka was to prove no different. A quick 30 minutes encounter and it was all done and dusted. Wasicka had missed out by a gnat's breath, but received a warm reception for his efforts.

But the day belonged to Jamie Gold. A worthy winner whose aggressive style was rewarded with a cheque for $12,000,000. The young TV producer exited to a raptuous applause and a brand new sponsorship deal with Bodog.com, but, to be honest, now's he's won this Event, he need never play a hand of poker again…
Now, when can I qualify for next year's Event?
[Ed Note: To see the final result of this comp, please click
here
]